A study by Pew Research Centre released on Thursday showed that while the majority of Italians do not support an Italexit, more than one in three people in Italy felt the country should leave the European Union.
"Down just a year ago, before the Brexit vote in the United Kingdom, public sentiment about the European project has rebounded," the reports' writers said.
Italy was the only country to register a decrease in favourability of the EU over the past 12 months. 
And together with the Greeks, Italians were the most likely to support an exit from the bloc.
In both those countries, 35 percent of respondents wanted to leave the EU, while 57 percent said they would support a national referendum on membership. Two of Italy's neighbours, France and Spain, were more supportive of EU membership referendums, but less likely to want to leave the EU.
The Italian favourability rating of the EU was the third lowest, joint with France. Among the ten countries polled, favourability was lower only in the UK, which voted to leave the bloc last year, and in Greece.
However, despite the EU seeing a drop in its popularity in Italy, the poll showed the majority of Italians still supported the bloc.
Fifty-six percent of Italians said they had a "favourable" view of the EU, while 39 percent viewed it unfavourably. 
As in other countries, young and left-leaning Italians were most likely to hold favourable views of the Union.
The 'ideological split' was second greatest in Italy, meaning that there was an extremely strong link between right-wing political views and negative opinion of the EU.
But one surprise came in the fact that 61 percent of supporters of the eurosceptic Five Star Movement said they had a positive view of the Union.
The Five Stars have recently taken a swing to the right, with leader Beppe Grillo backing the Movement's Rome administration in a call for a "moratorium" on migrant arrivals in the capital – a move widely seen as aiming to appeal to voters on the right, after a poor result for the Movement in local elections.
So why is the EU falling out of favour with Italians?
Answers to some of the survey's other questions gave some clues. For example, Greece and Italy were the only countries to have a less positive view of their own economy since 2016, with the drop particularly pronounced among Italians.
Italians were particularly unimpressed with Europe's handling of the economic issues (65 percent disapproval) and the refugee crisis (81 percent disapproval). On both issues, only the Greeks expressed higher disapproval.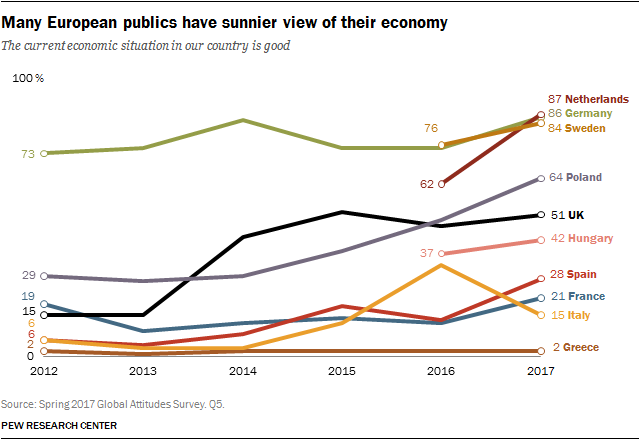 The survey polled almost 10,000 people in France, Germany, Greece, Hungary, Italy, the Netherlands, Poland, Spain, Sweden and the United Kingdom from March 2nd to April 17th, 2017.