As Italy's general election nears, The Local is publishing a series of articles introducing the key parties and political figures you need to know about.
READ ALSO: What election promises have Italy's political parties made so far?
Here's a quick guide to Italy's second-biggest party, the Partito Democratico (Democratic Party, or PD), its history, policies, support, and key figures.
Origins
The Democratic Party (PD) is relatively young, founded in late 2007. Like most of Italy's other major parties, the reason the PD was only formed quite recently is due to a massive corruption trial known as Mani Pulite (Clean Hands). or tangentopoli, in the early 1990s, which rocked the political establishment and led to a major shake-up of key players.
PD was formed in its aftermath to unite a wide range of left-wing and centre-left parties, with founding members including former Communists and former Christian Democrats.
Italy had a PD-led government between 2013 and 2018, headed by three different prime ministers from the party; Enrico Letta, Matteo Renzi, and Paolo Gentiloni.
The party brings together a broad range of political groups, and as such, its short history has been fractious. Most notably, a group of left-wing rebels including current health minister Roberto Speranza left the party to form their own in 2017, and former party leader Renzi left to form Italia Viva in 2018, which is now running against PD in the 2022 elections.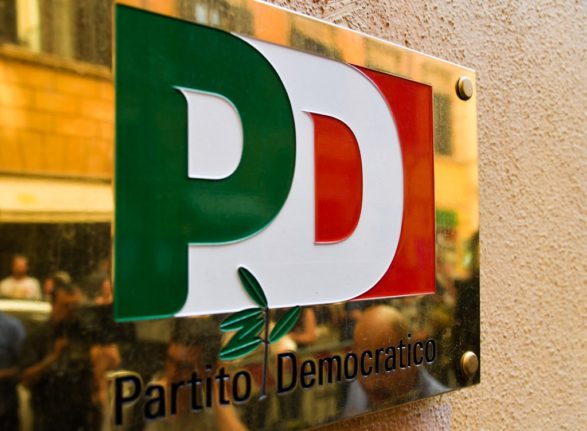 The logo of the Italian Democratic Party (PD) pictured on the facade of its headquarters in downtown Rome. Photo by Tiziana FABI / AFP
Ideology
The ideology of the Democratic Party can be hard to pin down due to the party's broad nature, but is inspired by social democracy. 
As the name suggests, it draws inspiration from the American Democratic Party: ex-PM and former party leader Matteo Renzi was one of Barack Obama's closest international allies, and the party's first ever leader, Walter Veltroni, has been described as 'Italy's Obama'.
The PD is pro-Europe and has traditionally had a liberal attitude towards migration, though its leaders have promoted stricter immigration policies in recent years.
READ ALSO: Italian elections: What are the main parties' policies for foreigners?
The party's current manifesto also promotes national and social cohesion, moderate social liberalism, green issues, and progressive taxation.
Support
The Democratic Party still enjoys fairly strong support nationwide, though this has waned over the past five years.
In 2017, PD ran 15 out of 20 of the country's regional governments. It now controls five regions, which is still the most of any one party.
Ahead of September elections, the party is currently polling at about 22-23 percent of the vote, and is expected to take around 28-29 percent as part of a broad left-wing coalition. 
📊 Sondaggio @tecneitalia per @QRepubblica: intenzioni di voto pic.twitter.com/f7ANpBH2Hl

— YouTrend (@you_trend) August 31, 2022
While this makes PD the country's second-biggest party in terms of voter share, it is not expected to be nearly enough to stop the right-wing coalition from winning by a landslide.
Big names:
Enrico Letta
The PD's current leader, Enrico Letta served as Prime Minister of Italy from April 2013 to February 2014, leading a grand coalition of centre-left and centre-right parties.
Former academic Letta was one of the senior founding members of the Democratic Party in 2007, and in 2009 was elected as its deputy leader.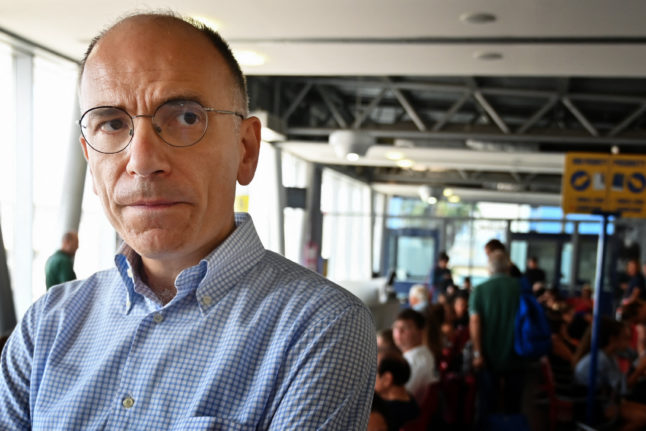 PD leader and former Italian prime minister Enrico Letta. Photo by Alberto PIZZOLI / AFP.
Dario Franceschini 
Italy's outgoing culture minister and a former PD leader is also an award-winning author and lawyer, and is considered one of the movers and shakers of the party. He'll stand as a parliamentary candidate, also in Naples, in the 2022 election.
Roberto Gualtieri
Former economy minister Gualtieri was elected PD mayor of Rome in October 2021 and is widely seen as a safe pair of hands.
A trained historian whose only known extravagance is a love for playing Brazilian music on the guitar, he served in government during 2019-2021, and was previously head of the European Parliament's economic affairs committee.
Elly Schlein
She's not technically a member of the PD, but 37-year-old US-Italian national Elly Schlein might be the party's best hope of widening its support in this election.
Social justice advocate Schlein worked on campaigns for former US President Barack Obama and is a former deputy in the European Parliament. She gained national attention in Italy two and a half years ago when she played a key role in blocking the right from taking power in her region, Emilia-Romagna.
PD leader Enrico Letta has made Schlein more prominent in campaigning in hopes of reaching undecided and younger voters, though she is running as an independent candidate on the PD's Democratic and Progressive Italy list.
BEGINNER'S GUIDES TO ITALY'S MAIN PARTIES