As Italy's general election nears, The Local is publishing a series of articles introducing the key parties and political figures you need to know about.
Here's a quick guide to Italy's populist Five Star Movement (Movimento 5 Stelle, or M5S), its history, policies, support, and key figures.
Origins
The M5S was founded by comedian Beppe Grillo in 2009 and quickly grew. It was born out of apparent frustration with the political establishment in a country with a stagnant economy and widespread corruption at the highest echelons.
The key idea was to use the internet as the engine for a new kind of democracy: social media would be used to spread the word, and online voting would decide the party's platform. Grillo's blog and events organized through networking site Meetup brought members and supporters together.
By the time of Italy's 2013 election, the M5S had grown enough to scoop more overall votes than any other party – but because of its refusal at the time to join a coalition, something that's more or less essential to play a part in an Italian government, this result didn't put the party in charge of the country.
When Italy's 2018 election resulted in a hung parliament, M5S decided it was tired of watching from the sidelines, and formed a post-election coalition with the hard-right League. The alliance proved an uneasy one, with the League pulling out in 2019.
M5S went on to form two more coalition governments, both of which collapsed, leaving Italy with three governments in as many years. The third and final collapse, which triggered Italy's September 2022 snap elections, was caused by M5S withdrawing its support.
READ ALSO
Ideology
The M5S hate categories. They claim to be neither left nor right, and their defining feature is an 'anti-establishment' attitude.
Officially, M5S stands for transparency and is anti-corruption, calling for politicians' salaries to be reduced and using an online platform to vote on candidates and legislation, as part of its commitment to 'direct democracy'. However, it has faced criticism in the past for tight control by party leadership: locally elected representatives must abide by a 'code of conduct' and get permission from the leaders on numerous issues.
The party was previously described as 'anti-euro' due to its pledge to hold a referendum on Italy's membership of the currency, but under former leader Luigi Di Maio and current head Giuseppe Conte, its stance towards the euro and EU has significantly softened. After the EU pledged to allocate €750 billion in recovery funds to Italy in the wake of the Covid pandemic, Conte said the bloc had reacted "with courage and vision".
On Russia's invasion of Ukraine, the party has reiterated its support for Europe but otherwise kept quiet, with Conte recently saying the government should prioritise Italy's green transition over military spending. This prevarication on the part of its leadership is thought to be a large part of the reason why Di Maio, then foreign minister, left the party in 2022.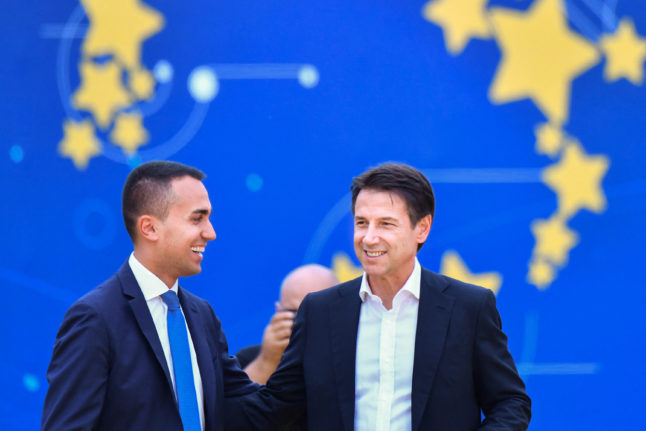 On other issues, the party's policies are a mixture of the traditional left and right, and often hard to pin down. It withdrew support for gay civil unions in parliament in 2016, though its 2022 manifesto says the party is in favour of equal marriage rights. Over the years, M5S has maintained a relatively tough stance on immigration issues; on the environment and social inequality, though, it's much closer to the traditional left.
Initially defined by its loose organisational structure, in 2021 M5S members approved a new statute that lays out a clear group hierarchy, formalising its transition from scrappy outsider to fully-fledged political party.
READ ALSO
Support
The Movement scooped 33 percent of the vote in the 2018 general elections, making it the country's largest party at the time.
After more than four years in government, however, M5S has seen its support plummet. As of August 2022, a month before Italy's general election, the group was polling at around 11 percent.
M5S's 2019 choice to form a coalition with PD, its one-time enemy, was unpopular with core members. The party's decision to pull out of a 'unity' coalition government in July 2022, apparently in a bid to claw back some support by asserting its independence, also seems to have backfired.
According to a survey conducted at the time, only one in three Italians supported the move, which catapulted the country into snap elections at a time when Italy was already grappling with a cost of living crisis and the effects of Russia's war on Ukraine.
To add to its woes, M5S has experienced a large number of defections in the recent years – not least that of former leader Di Maio, who in June 2022 left to form his own party more closely aligned with the political establishment.
Big names
Giuseppe Conte became head of M5S in 2021 after being voted in by members via an online poll. A law professor with no political background and some questionable CV bona fides, he served as prime minister of Italy in two separate coalition governments between 2018 and 2021 as a M5S-linked independent. His approval rating among Italians rose to more than 60 percent during the Covid pandemic, but dropped to 39 percent in July 2022 after he made the unpopular decision to pull out of the government and trigger an early election.
Beppe Grillo is the co-founder of the movement, together with Gianroberto Casaleggio who died in 2017. The former comedian was known for his vulgarity (early party rallies were known as 'Vaffa days' or 'Fuck you days') and rants, but he was responsible for the Movement's break out success. Recently, he's taken steps to publicly distance himself from the M5S, rarely appearing at events, and in 2018 disassociating his blog from the party it spawned. He has at times butted heads with Conte, accusing the latter of lacking political vision and trying to preside over a one-man party.
READ ALSO: A new direction for the Five Star Movement? Grillo distances himself from the party he founded