See how it's done in this week's video recipe from the chefs at Al.ta Cucina.
Ingredients (serves six)
– Eight artichokes
– Vegetable oil for frying
– 100g grated pecorino cheese
– One litre of béchamel sauce (if you want to make your own, the recipe is below)
– Fresh lasagna sheets
– Pepper to season
Method:
Remove the outer leaves and slice the artichokes, then fry the slices in a frying pan with a good amount of vegetable oil.
In a baking dish, spread a layer of béchamel, a layer of lasagna sheets, another layer of béchamel, and then a layer of the fried artichokes.  Also add grated pecorino and black pepper.
Repeat the layers until all the ingredients have been used. Bake for 25 minutes at 180˚C/350˚F.
Once it has been removed from the oven, cover the surface with more crispy fried artichokes and serve hot.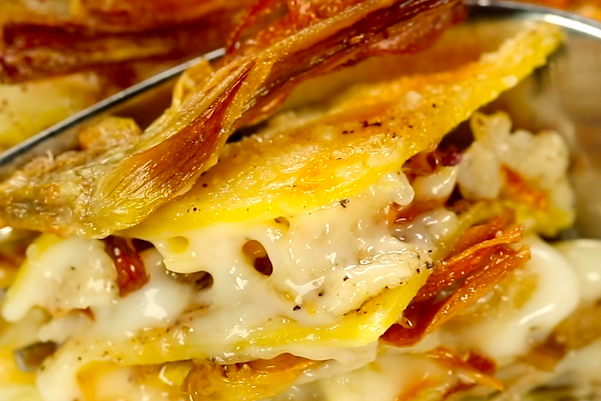 For the bechamel
Ingredients:
-100g plain flour
-100g butter
-1 litre of whole milk
-Grated nutmeg to taste
-A pinch of salt
Method:
-Begin to melt the butter in a pan.
-Once it is nearly melted, add in the flour, whisking it quickly to thicken the mixture.
-While still whisking, add in the milk a little at a time to create a smooth cream without any lumps.
-Add in the nutmeg, still whisking.
-Keep cooking the bechamel, all the while whisking. You will know it's ready by inserting a spoon. When you're able to lift it out without the sauce forming a "veil" off the back of the spoon, the bechamel is ready.
Buon appetito! See more Italian video recipes by Al.ta Cucina on Facebook.