As of Friday, November 6th, movement is restricted everywhere in Italy from 10pm to 5am.
The public is urged to stay indoors between these hours, except for essential reasons like work or health emergencies.
READ ALSO: At a glance: What are the coronavirus rules in Italy right now?
Whether you're a resident or just passing through, you should prepare to fill out an autodichiarazione ('self-certification form') if you have to go out during curfew hours.
Similar to the forms everyone in Italy had to carry during the nationwide lockdown, these slips state who you are, where you're going and why, and that you're aware of the rules in place as well as the penalties for breaking them.
Here's the form you'll need.
What does the form look like?
The good news is that there's only one autodichiariazione, published by the Interior Ministry and valid in every region of Italy.
Here's what it looks like: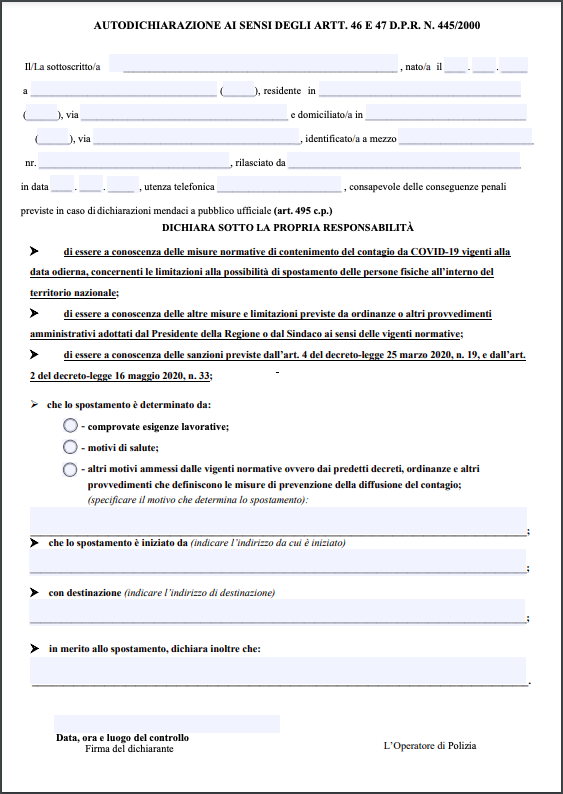 You can download a copy here.
How do you fill it out?
According to the Interior Ministry, you don't have to print and fill in an autodichiarazione in advance: if police officers stop you, they can supply you with the form and you can complete it on the spot. 
Here's the information it asks for, in order:
Full name
Date of birth
Place of birth
Town, province and address of permanent residence
Town, province and address of current residence (if different)
Type, number, issuing authority and date of issue of official ID
Phone number
Reason for travel: work; health reasons; other essential reasons (give details)
Place of departure
Destination
Any additional information
Date, time and place of police check (leave this blank until you're stopped)
Signature
The form should be filled out in Italian.
Make sure you take a picture of the completed form for your records before you hand it over to police. 
How long do you need it?
Italy's national curfew is expected to remain in place until at least December 3rd.
Certain regions will be subject to additional restrictions on movement depending on their level of risk; where restrictions are tightest, you may also be required to carry an autodichiarazione in order to leave your town, province or region of residence.
READ ALSO: Where to find the latest Covid-19 information for your region of Italy