Following the inauguration on Wednesday of the 46th President of the United States, Joe Biden, and Vice-President Kamala Harris, Conte sent them his best wishes in facing the tasks ahead.
"Best wishes for your work to President Joe Biden and Vice-President Kamala Harris," Conte tweeted. "This is a great day for democracy, reaching far beyond the American borders."
"Italy stands ready to face the challenges of our common international agenda together with the United States."
Auguri di buon lavoro al Presidente @JoeBiden e alla Vice-Presidente @KamalaHarris. È un grande giorno per la democrazia la cui importanza travalica i confini americani. L'Italia è pronta ad affrontare con gli USA le sfide della comune agenda internazionale.#InaugurationDay

— Giuseppe Conte (@GiuseppeConteIT) January 20, 2021
The Italian phrase 
'buon lavoro'
 is used to wish someone future success in their work.
Nicola Zingaretti, leader of the Democratic Party (PD) which forms part of Italy's ruling coalition government,
wrote a letter of congratulations
to President Biden on Wednesday in which he said he hoped the two countries could "work together to put the planet, people and prosperity at the centre".
"Your announcement of the re-entry of the United States into the Paris agreement on climate change is excellent news," Zingaretti wrote.
Pope Francis later on Wednesday evening urged new US President Joe Biden to promote "reconciliation and peace" around the world.
"At a time when the grave crises facing our human family call for far-sighted and united responses, I pray that your decisions will be guided by
a concern for building a society marked by authentic justice and freedom," the pope said in a statement.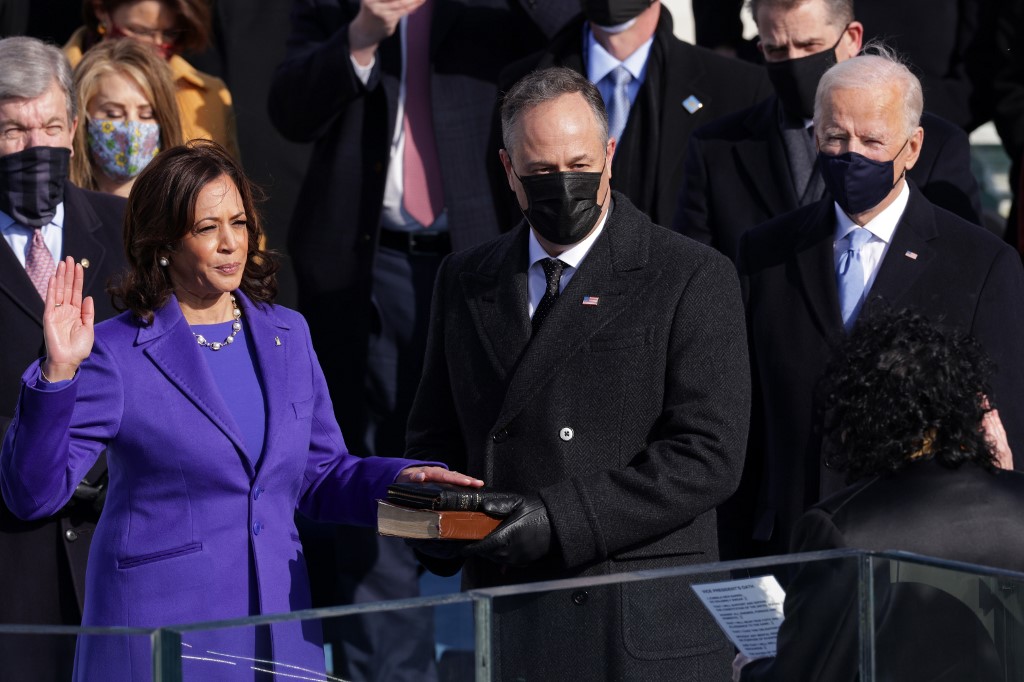 Kamala Harris is sworn in as US Vice President at the Capitol on January 20th, 2021. Photo: Getty Images via AFP
Italy's political leaders have not made any reference to former president Donald Trump in their responses to the US election results or Biden's inauguration.
Some European leaders, however, made their feelings about the end of Trump's presidency clear.
"Once again, after four long years, Europe has a friend in the White House," European Commission President Ursula von der Leyen said on Wednesday.
"This new dawn in America is the moment we've been waiting for so long. Europe is ready for a new start with our oldest and most trusted partner," she said at the European Parliament in Brussels.