Picturesque Procida, which lies in the Bay of Naples, was chosen ahead of nine other finalists: Ancona, Bari, Cerveteri, L'Aquila, Pieve di Soligo, Taranto, Trapani, Verbania and Volterra.
With fewer than 10,500 inhabitants, Procida was the smallest of all the candidates, but impressed the Ministry of Culture's judges with a proposal focused on sustainable, non-seasonal tourism that they said could provide a model for other Italian seaside towns looking to attract visitors who want more than a beach.
READ ALSO: How to spend the perfect day out in Procida
Titled 'La cultura non isola' or 'Culture doesn't isolate' – a pun on the Italian word isola, which can mean both 'island' and 'isolate' – Procida's proposal involves inviting 240 artists to create a programme spread over 330 days of the year. It also foresees improving the island's links to the mainland and the city of Naples, a half-hour boat ride away. 
Procida will receive €1 million towards the plan.
Often overlooked by the tourists who flock to Capri and Ischia, Procida has retained the old-fashioned charm sometimes lacking in its more famous neighbours. Its colourful fishing harbour, steep winding streets and white sandy beaches have provided the backdrop to period pieces Il Postino and The Talented Mr Ripley, among other films.
READ ALSO: The stunning movie scene locations you simply have to visit in Italy
There are already plenty of reasons to visit, whether it's the sea view from the Abbey of St. Michael the Archangel, dramatic clifftop prison the Palazzo d'Avalos, the pastel shades of Corricella marina, the sheltered beaches of Chiaia and Chiaiolella, or local delicacies from sea urchins to wild rabbit or lemon-cream pastries.
As well as adding new artistic attractions, Procida's 2022 proposal said it would protect the island's existing natural and cultural heritage, with a focus on 'slow tourism' and attracting repeat, year-round visitors who offer a long-term contribution.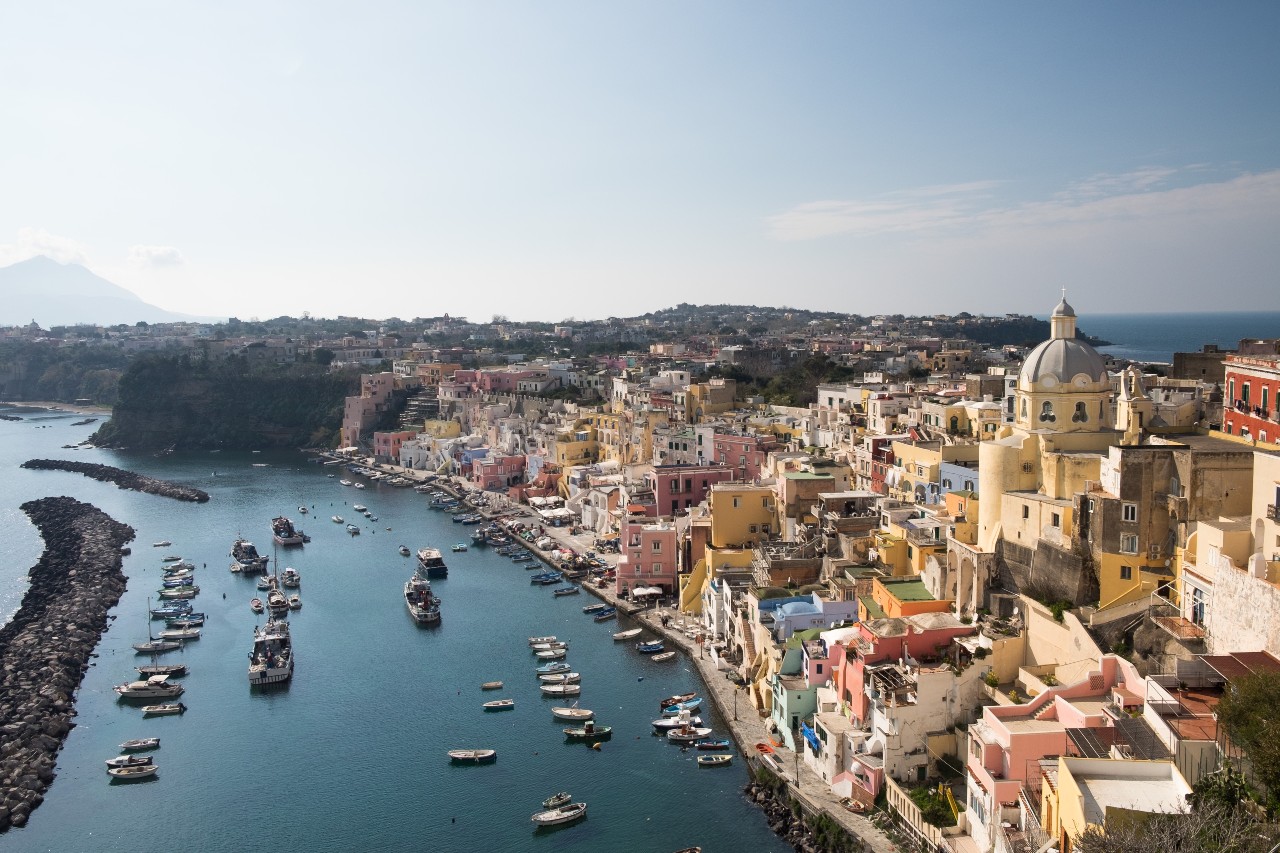 Colourful Coricella marina. Photo: Laurent Gence via Unsplash
While visiting the island remains impossible for most people both outside and inside Italy under the coronavirus travel restrictions currently in place, tourism will recover by the time Procida takes its title, culture minister Dario Franceschini assured.
"By 2022 we will have returned to normality and tourism and culture will come back as strong and important as they were before the pandemic," he said.
Italy's 2020 capital of culture, Parma, had its run extended into 2021 to make up for the difficulties of the past year. 
Procida will be succeeded as cultural capital in 2023 by the towns of Brescia and Bergamo, which will share the title in recognition of the heavy toll taken by the first wave of the Covid-19 pandemic.