When we emerged from strict lockdown after Christmas and New Year, it was with a sense of resolve and hope that we launched ourselves into the new year.
But so far, 2021 hasn't quite delivered in the way we were all hoping. Not yet anyway. 
Events around the globe continue to cause shock and alarm, and the news from home has all too often been grim and unwelcome.
At least in Italy the pandemic seems to have stabilised in recent days, following a second wave that seemed to peak at the beginning of December. But the situation remains critical.
LATEST NEWS:
For bars, restaurants and small businesses it has been a truly devastating winter, and the economic hardship so many are continuing to grapple with is often very hard to digest.
Here in Verona life trundles on, but with the compressed days and damp winter air, the current 'lockdown' seems more gruelling than the first. The absence of the joy, colour and richness of life that we associate with Italy is taking its toll.
Bars and restaurants have been pretty much closed since December 23rd, and so many of these are small family-run enterprises that are teetering on the brink.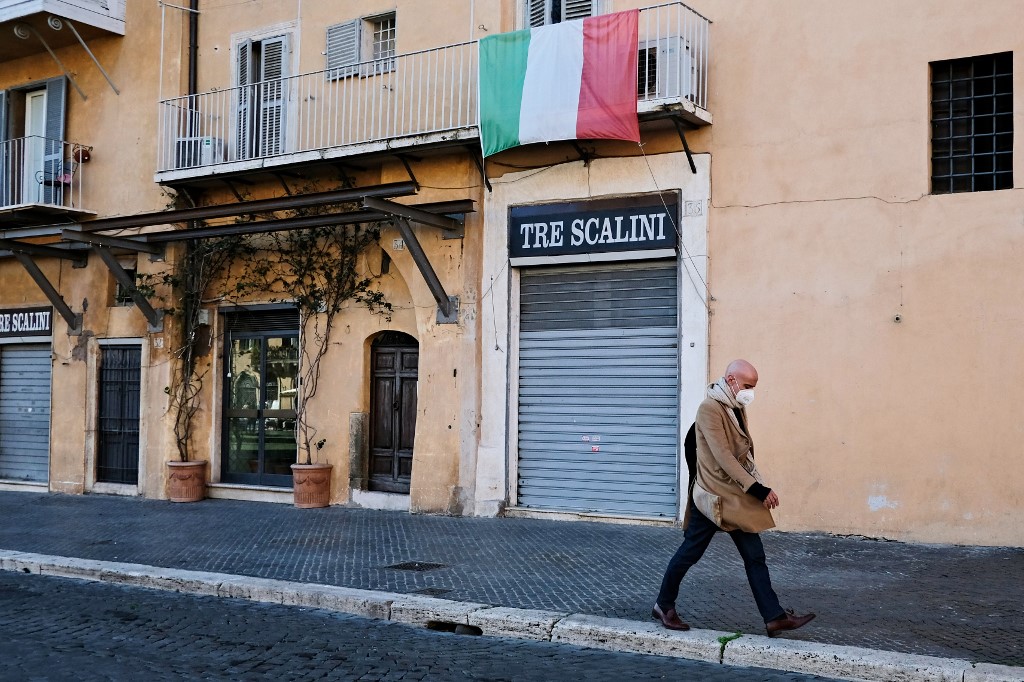 Italy's bars and restaurants continue to be hard hit by the coronavirus crisis. Photo: AFP
As a man of simple pleasures, I miss my habitual coffee and perusal of La Gazzetta dello Sport at my favourite bar. Coffee at home doesn't quite hit the spot, though being able to discreetly add a modest splosh of Christmas grappa is a small consolation.
Amidst the winter gloom there are a few faint glimmers of sunshine (aside from the leftover grappa).
The education authorities and teaching staff have performed heroics in what continue to be extremely trying circumstances. As a result, our kids haven't missed a single day of school since returning in September. For that we are truly grateful.
READ ALSO: 'Thermometers and Buzz Lightyear: How our family managed the return to school in Italy'
Remote learning and, in my case, remote teaching, has taken massive leaps forward and, particularly amongst the demographics that I work with, even has significant practical advantages over classroom-based learning. I'm currently delivering a course aimed at equipping hospitality workers with the skills they'll need to welcome visitors back to Verona when circumstances finally allow.
Organized sports and after school activities trundle tentatively on, despite the stark limitations.
I've also dusted down my mountain bike and am enjoying re-discovering the gnarly trails and deserted country roads that wind around the hills and between the slumbering vineyards to the north of the city.
And I've even (finally) found some pleasure in Dante! Every 12-year-old in Italy studies the famous Italian poet, so when my son began reciting verses a couple of weeks ago, I felt an obligation to take the plunge myself.
I've grappled with the first two parts, Inferno and Purgatorio, and am now looking forward to discovering Paradiso, the third and final part of the epic narrative poem.
READ ALSO: Ten strange things you never knew about Dante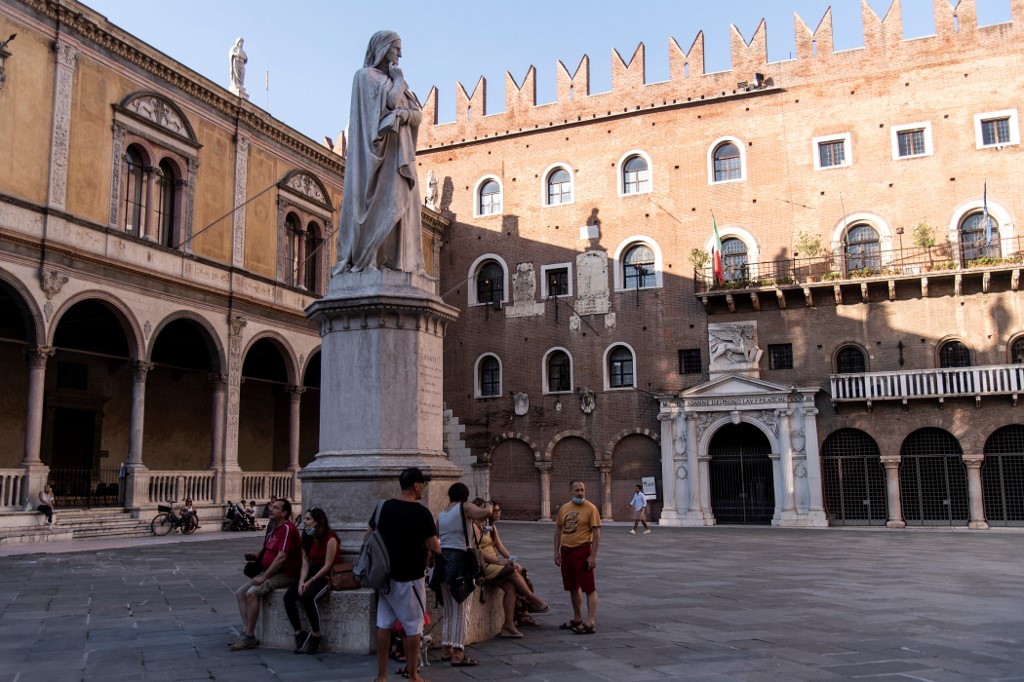 People at the statue of Dante in Verona's Piazza dei Signori in July 2020. Photo: AFP
Dante is, after all, closely associated with Verona. The so-called 'father of the Italian language', he visited the city on a number of occasions during periods of exile from his native Florence, where he was hosted by the Veronese lord Cangrande I della Scala, who was rewarded for his hospitality with a place in Dante's Paradiso.
In a lasting tribute to the iconic poet, one of city's most well recognized monuments is the statue of Dante that stands proudly in the centre of Piazza dei Signori.
As this year marks the 700th anniversary of his death, there will undoubtedly be further opportunities to learn more about his life and work in the weeks and months to come.
I for one welcome the distraction. I just hope the story has a happy ending.
Richard Hough has lived in Verona since September 2011 and writes about the region's history, football, wine and culture. His first book, Notes from Verona, a short collection of diary entries from inside locked down Italy, is available here. He is currently researching his next book about wartime Verona.