Two of the city's most famous attractions reopen to visitors this week: the Last Supper on Tuesday, February 9th and the Duomo from Thursday, February 11th.
Both have been closed since November because of the coronavirus pandemic, though the cathedral remained open for religious services.
Now that the surrounding region of Lombardy is a 'yellow zone', like most of Italy, museums and galleries are allowed to reopen – though only from Monday to Friday, and with social distancing measures in place.
REMINDER: What are the rules in Italy's Covid-19 'yellow zones'?
Up to 12 people will be admitted to see the Last Supper every 15 minutes as it reopens this week, rising to 18 from next week.
But the biggest change is that you'll be able to buy a ticket on the spot for entry the same day, without reserving online in advance. Pre-pandemic, tickets were often booked out for weeks.
"I invite everyone in Milan and Lombardy to visit the Last Supper in these special conditions," regional museum director Emanuela Daffra told the Corriere della Sera. "The Covid emergency has at least had the effect of reducing the legendary wait, and this is a real opportunity for the public."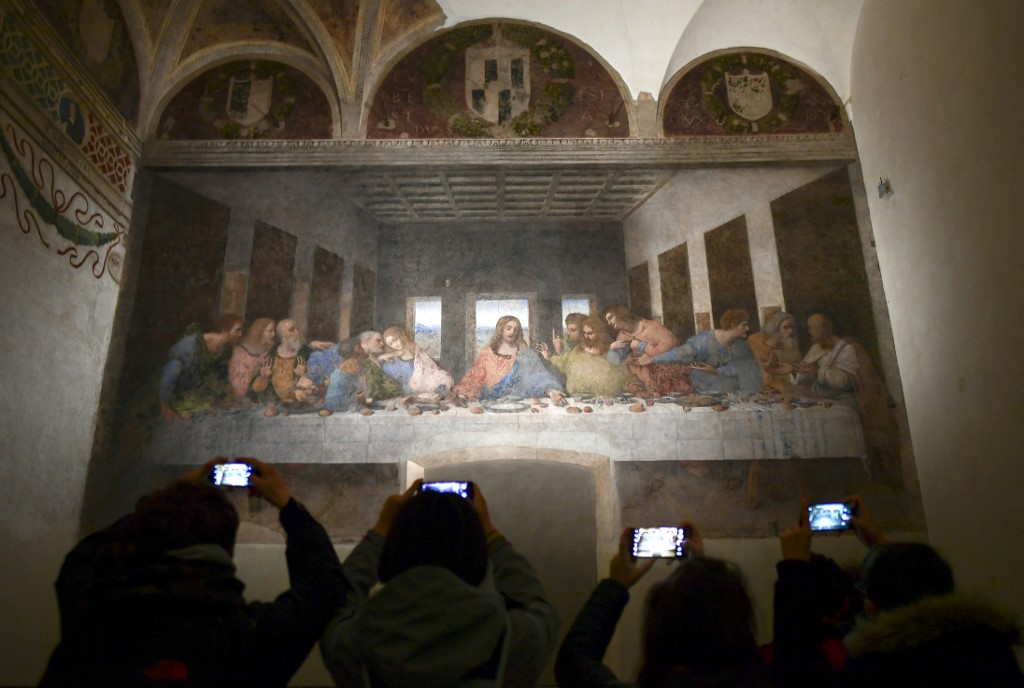 Admiring the Last Supper in pre-pandemic days. Photo: Miguel Medina/AFP
While nearly 450,000 people visited Da Vinci's masterpiece in the Santa Maria delle Grazie convent in 2019, the site had just over 132,000 visitors in 2020. It was closed from February to June in the first wave of the pandemic, then reopened over the summer only to close again in early November. 
The Duomo was closed to tourists over the same period, though millions admired it over the internet when Italian tenor Andrea Bocelli gave an evocative solo concert in the empty cathedral while much of the world was in lockdown (even if the opera star later disgraced himself by urging people to disregard health restrictions). 
From Thursday, it will be open to visitors once more from 10am to 5pm, Monday to Friday, with people encouraged to book entry online.
READ ALSO: 
Non-essential travel between regions remains banned in Italy until at least February 15th, meaning that the only people who'll be able to visit either attraction are people based in the region of Lombardy.
The regional travel ban, along with restrictions on international travel, has resulted in unprecedented opportunities for residents to visit their biggest local attractions without the usual crowds, whether it's the Vatican Museums or Colosseum in Rome, or the carnival in Venice.