Once you're in Italy, you'll need to be aware of the various restrictions still in place in order to access various venues and sites.
The Italian government has eased some of its coronavirus containment measures as of April 1st, but its health certificate, known as the 'green pass', is still a requirement at many places across Italy.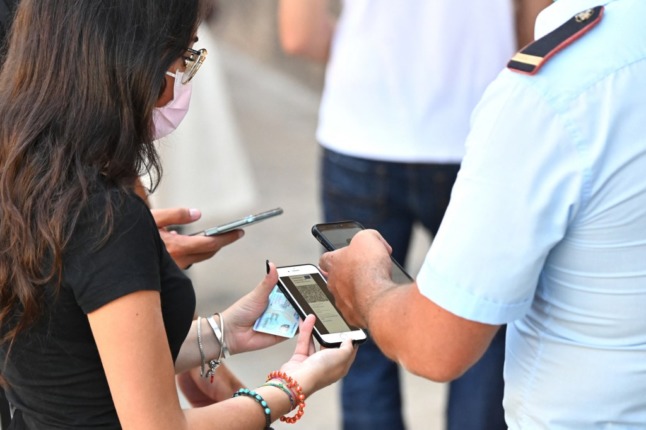 A tourist shows her Covid-19 certificates for scanning. (Photo by Andreas SOLARO / AFP)
The number of venues and services that require the 'super green pass' (or its equivalent in the form of a foreign-issued vaccination or recovery certificate) is reduced from this date.
READ ALSO: Reader question: Do I need a Covid green pass for my trip to Italy?
Some of these spaces will now only require a 'basic' green pass – which can also be obtained via a recent negative Covid test result from a pharmacy carried out in the preceding 72 hours (for PCR tests) or 48 hours (for rapid tests); while other venues will dispense with the green pass requirement altogether.
The rules apply to everyone in the country aged over 12.
Access to hotels, outdoor dining at restaurants, local public transport services, shops, banks and hairdressers will no longer require any kind of health certificate from April 1st. Indoor restaurant dining, long-distance public transport services, and outdoor shows and events will require only the basic green pass. 
You can find a complete list of all the places that require a reinforced or basic green pass from April 1st here.
READ ALSO: Where in Italy you still need to show the 'super green pass'