This article was last updated on April 6th, 2022.
The rules on travel between Italy and the UK have been updated multiple times over the past few months in response to the changing health situation.
Here's a summary of what you need to know.
What are the rules for travel from Italy to the UK?
All Covid entry restrictions to the UK were dropped effective from March 18th.
It is now the case that you will no longer need to take any Covid tests or even complete a passenger locator form if you are entering the UK from Italy or any other country.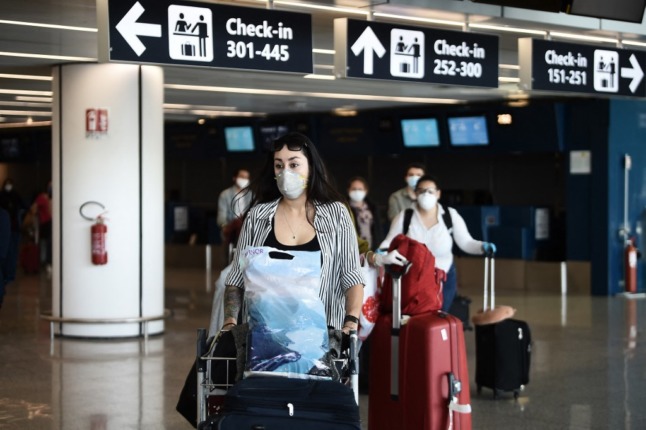 Photo by Filippo MONTEFORTE / AFP
The changes apply to both vaccinated and unvaccinated travellers – that means that if you are in Italy and not fully vaccinated, you will no longer have to take pre-departure tests or a day 2 post-arrival test.
The changes mean travel should be as easy as it was before the pandemic began.
Mask wearing for travel into the UK varies: many UK airports and airlines have made it optional to wear a mask while travelling. However, masks are still required on planes if you're flying into Wales or Scotland.
If in doubt, it's best to carry one with you, because in any case, you still need them in Italy's airports.
Travelling from the UK to Italy
While restrictions to enter the UK have been dropped, there are still health measures in place for travel to Italy.
Photo by ANDREAS SOLARO / AFP
The current rules state that either a Covid vaccination certificate, recovery certificate or negative test result is sufficient for entry to Italy for travellers from any country.
These were the set of rules that came into force on March 1st, which have since been extended until at least the end of April.
Italy also requires arrivals to complete a passenger locator form (download it here and here's how to fill it out).
As before, the dPLF must be completed by everyone arriving in Italy, by any means of transport, before entering the country. It can also be completed and shown in either paper or digital format.
For those coming from the UK, the current travel restrictions are therefore now the same for non-EU travellers as for those coming from within Europe.
READ ALSO: What you need to know about travel to Italy this spring
The Italian foreign ministry updated its guidance to clarify what counts as "vaccinated" for entry purposes.
According to the Viaggiare Sicuri website, this is either:
A completed primary vaccination cycle with an EMA-approved vaccine carried out less than nine months ago, or
A completed primary vaccination cycle plus booster dose with EMA-approved vaccines, carried out at any time.
Remember that travellers without valid vaccination certificates can enter Italy with either a recovery certificate or a recent negative Covid test.
To be valid for entry, the recovery certificate should show proof from a certified medical provider that the holder has recovered from Covid within the past six months.
Both rapid antigen/lateral flow and PCR/molecular Covid tests are valid for entry into Italy; PCR tests must have been taken in the 72 hour window before arrival in Italy and rapid tests in the 48 hours before arrival.
READ ALSO: How tourists and visitors can get a coronavirus test in Italy
Passengers who fail to present any one of these documents will still be allowed to enter Italy, but will be required to self isolate for five days on arrival and test negative for Covid on day five to exit quarantine.
Travel within Italy
Once you're in Italy, you'll need to be aware of the various restrictions still in place in order to access various venues and sites.
The Italian government has eased some of its coronavirus containment measures as of April 1st, but its health certificate, known as the 'green pass', is still a requirement at many places across Italy.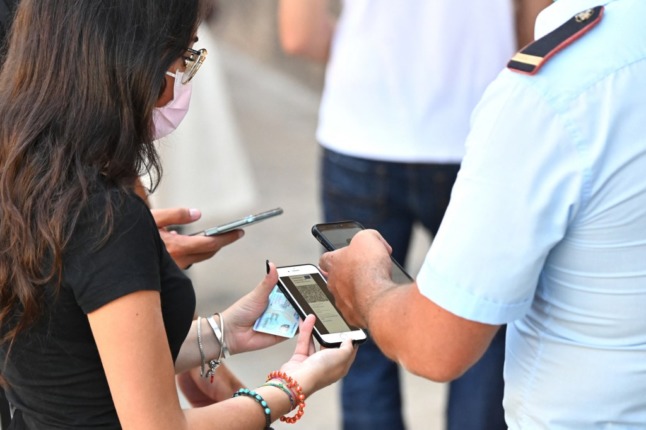 A tourist shows her Covid-19 certificates for scanning. (Photo by Andreas SOLARO / AFP)
The number of venues and services that require the 'super green pass' (or its equivalent in the form of a foreign-issued vaccination or recovery certificate) is reduced from this date.
READ ALSO: Reader question: Do I need a Covid green pass for my trip to Italy?
Some of these spaces will now only require a 'basic' green pass – which can also be obtained via a recent negative Covid test result from a pharmacy carried out in the preceding 72 hours (for PCR tests) or 48 hours (for rapid tests); while other venues will dispense with the green pass requirement altogether.
The rules apply to everyone in the country aged over 12.
Access to hotels, outdoor dining at restaurants, local public transport services, shops, banks and hairdressers will no longer require any kind of health certificate from April 1st. Indoor restaurant dining, long-distance public transport services, and outdoor shows and events will require only the basic green pass. 
You can find a complete list of all the places that require a reinforced or basic green pass from April 1st here.
READ ALSO: Where in Italy you still need to show the 'super green pass'
For more information on the requirements for travel to Italy:
You can also call the Italian coronavirus information line:
From Italy: 1500 (freephone number)
From abroad: +39 0232008345 , +39 0283905385
Please note that The Local cannot advise on specific cases. For more information about how the rules may apply to you, see the Italian Health Ministry's website or consult the Italian embassy in your country.
You can keep up with the latest news updates via our homepage or travel news section.
Find more information about Italy's Covid-19 health restrictions on the Italian health ministry's website (available in English).