From a new government to a successful vaccination campaign, Italy has seen some huge changes this year.
We might still be living through the pandemic, but 2021 was an outstanding year for Italy. Sweeping successes in music, football and the Olympics thrust Italy into the global spotlight, while the new government led by Mario Draghi pledged once-in-a-lifetime economic reforms that could improve life in the country for many.
READ ALSO: Ten of the 'new' Italian words and phrases that defined 2021
The Local's news coverage has also focused on issues affecting the everyday lives of Italy's foreign residents, from the ever-changing international travel restrictions and the fallout from Brexit to bureaucratic obstacles when accessing Covid-19 vaccines.
Here's a look back on just some of the stories that defined 2021 for us.
Mario Draghi became Italian prime minister
Former European Central Bank chief Mario Draghi was formally sworn in as Italy's new prime minister in February following a month of political crisis and instability in the country.
Draghi was asked to form a new government by President Sergio Mattarella after former PM Giuseppe Conte's centre-left coalition collapsed.
The 73-year-old was previously dubbed 'Super Mario' for doing "whatever it takes" to save the eurozone, and he has now been tasked with ensuring Italy spends its EU recovery funds wisely as well as steering the country through the ongoing health emergency and associated economic fallout.
Italy Prime Minister Mario Draghi. Photo: picture alliance/dpa/LaPresse via ZUMA Press | Roberto Monaldo
Draghi has largely proven to be a popular figure in Italy, with his broad coalition government – often called the "government of unity" – drawing support from across the political spectrum. He was even cited as the main reason The Economist recently named Italy '
country of the year
' for 2021.
Draghi is now tipped to become Italy's next president in 2022, with Mattarella retiring in February. But whether or not that will happen – and where such a move would leave Italy, and its government – is anyone's guess for the moment.
Italy won… pretty much everything
Almost 90 percent of Italy's population got vaccinated
Just over a year after Italy administered its first doses of anti-Covid-19 vaccines on December 27th, 2020, the country has now reached one of the highest vaccination coverage rates in Europe.
More than 89 percent of the population aged over 12 has now had at least one dose, with 85 percent having completed the initial vaccination cycle, health ministry figures show.
It wasn't all plain sailing. Many people, particularly Italy's foreign residents, had (and continue to have) problems getting a vaccination appointment without the required pieces of paperwork.
READ ALSO: Where to register for a Covid-19 vaccine in your region of Italy
Overall though, Italy's vaccination campaign was credited during summer and autumn with keeping infection and hospitalisation rates relatively low, and allowing people in the country to return to some semblance of normality – for a while.
Italy has now accelerated the booster campaign and begun offering the jab to under 12s in efforts to keep immunity levels high, as the more infectious Omicron variant drives a record surge in infections at the end of 2021.
Italy's Covid health certificate looks likely to be part of Italian life for some time yet. Photo: Vincenzo PINTO / AFP
Italy's 'green pass' became part of everyday life
It may be hard to remember what it was like before the Covid-19 'green pass' became essential for many aspects of life in Italy, but the scheme was only introduced in spring 2021.
The first version of the domestic green pass, which was only available on paper, was used to allow travel between regions at a time when much of the country was still under tight restrictions.
Italy made the pass a requirement to enter cultural and leisure venues from August 6th, and the scheme has since been expanded multiple times.
Originally, it certified that the holder had either been vaccinated, tested negative for coronavirus, or recently contracted and recovered from Covid-19. Now, a more restricted version, known as the 'reinforced' or 'super' green pass, is needed for access to many cultural and leisure venues including nightclubs and sports facilities. This is only available to those who are vaccinated or recovered.
Q&A: How does Italy's new Covid 'super green pass' work?
A pass generated based on a negative test result, on the other hand, is now known as a 'basic' green pass and is only valid for access to workplaces and other venues deemed essential.
Italy's government announced at the end of 2021 that a 'super' green pass will be required at many more cultural and leisure venues and on all public transport from January 10th.
It looks like the pass requirement will remain part of life in Italy for a while yet.
Italy got €222 billion in EU post-Covid recovery funds
Italy is set to receive the biggest share of the 750-billion-euro European pandemic recovery fund, with the money to arrive over the next five years
Prime Minister Mario Draghi unveiled his plans for the multi-billion euro programme back in April, saying it would address both the damage inflicted by Covid-19 and Italy's long-standing structural and economic issues.
The aim of the 'Piano Nazionale di Ripresa e Resilienza' (Recovery and Resilience Plan) is to build a more solid economy following the pandemic and encourage growth after Italy suffered its biggest drop in GDP since the end of World War II.
Among other things, funds are designated for upgrades to Italy's internet network and transport infrastructure, tax incentives and bonuses such as the building superbonus, and educational policies and schemes intended to help more people into the workplace.
Italian bureaucracy went (a bit more) digital
Although Italy is still very much attached to its mountain of red tape, more official services went online in 2021.
One positive to have emerged from the pandemic is the increased openness – from both authorities and the public – to the idea of making such processes digital.
Most recently, Italy launched a new national platform allowing residents to download official records, including residency and marriage certificates, for free online instead of having to queue up at the comune (town hall).
READ ALSO:
In a country where until very recently almost everything – from filing paperwork to grocery shopping – usually had to be done in person, seemingly small changes like this represents a major shift in culture and mindset.
Here are 19 more bits of Italian bureaucracy you can now do online.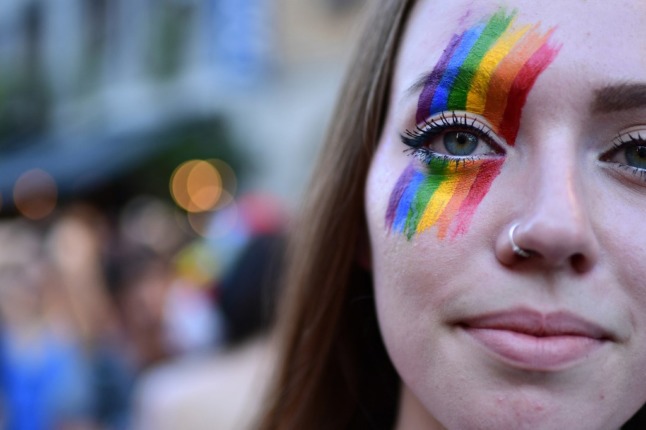 (Photo by MIGUEL MEDINA / AFP)
Italians got angry about inequality
Italy is not exactly famed for championing equal opportunities and inclusion, but a bid to change that this year pushed these issues into the spotlight.
For younger Italians especially, this was a year full of heated discussions around Italy's 'Zan bill' a proposed law against discrimination and violence based on gender, disability or sexual orientation. 
Proponents say it would have improved equal opportunities and represented a turning point for predominantly Catholic Italy, where legislation on LGBTQ issues is particularly sensitive.
The bill, which had popular backing but drew protests from the Vatican, dominated news reports and political discussions in Italy for months. It was eventually voted down in October amid staunch political opposition from conservative and hard-right parties including the League and Brothers of Italy, who said it endangered freedom of expression and would encourage "homosexual propaganda" in schools.
Though the law didn't pass, discussions continue amid increased public awareness of the injustices the bill aimed to address.
Italy sizzled in extreme heat – and recorded Europe's hottest ever temperature
Hot weather is obviously nothing new in Italy, but summer 2021 was a scorcher by anyone's standards.
Globally, July 2021 earned the unenviable distinction as the world's hottest month on record, according to the US National Centers for Environmental Information.
Climate crisis: The Italian cities worst affected by flooding and heatwaves
Italy sweltered through an unusually long, hot summer, peaking with the hottest temperature ever recorded in Europe: 48.8C in Syracuse, Sicily, on August 11th, amid an extreme heatwave dubbed 'Lucifer' by the press.
Although such extreme weather events have always existed, experts say the climate crisis is making heatwaves more frequent and more dangerous. This year's wildfire season was also significantly more destructive than average.
Mount Etna erupted for a month
Streams of lava and plumes of smoke and ash were a regular sight above Sicily's Mount Etna as the volcano erupted multiple times throughout February and March.
Experts reassured the public that the increased activity wasn't unusual or concerning – after all, Etna is one of the world's most active volcanoes.
Still, the eruptions (and resulting clouds of ash) forced the airport in nearby Catania to close, while authorities closely watched the three villages at the foot of the volcano, Linguaglossa, Fornazzo and Milo.
To look back on photos of the spectacular event, see
here
.
Italy's British residents faced uncertainty
Leaving 2020 behind also meant a new era for Brits living in Italy as the UK is no longer part of the European Union as of January 1st 2021. This had many practical implications for British citizens who have built lives abroad, and the past year was marked by uncertainty for many.
It's been a tumultuous year for British nationals living in Italy. Photo by Vincenzo PINTO / AFP
As well as being advised to apply for a new electronic 'tessera' or ID card, called a 'carta di soggiorno', to prove their rights as residents and help avoid problems with access to healthcare, employment and driving licences, British residents had a tense wait to find out whether or not UK-issued driving licences would still be valid from the end of 2021 or not.
BREXIT: What can Italy's British residents do about passport stamps?
Things were eventually smoothed out: by the end of the year, at least a third of Italy's estimated 32,000 British residents had applied for the 'carta di soggiorno' and the Italian government issued an 11th-hour extension for those with British driving licences, which are now valid until the end of 2022.
Italy gave homeowners €9bn towards renovation work
2021 has been dominated by headlines of Italy's so-called 'superbonus', a tax deduction of up to 110% on the expenses related to making energy upgrades and reducing seismic risk.
The scheme was part of the government's Decreto Rilancio (Relaunch Decree), introduced as an emergency response to the economic impact of Covid-19.
It's been incredibly popular throughout the year, so much so that demand has led to setbacks in renovation timescales. A lack of building companies and complex bureaucracy has left many homeowners in a queue or forced some to abandon their plans altogether.
Property: Do you have to be Italian to claim Italy's building bonuses?
But many homeowners have in fact successfully accessed the bonus, with the government approving over €9 billion of investments by November.
As it's set to be extended into 2022, more homeowners still have the chance to access government aid to finance their renovation works.
Italy marked its first day of remembrance for victims of Covid-19
Italy chose March 18th for its first remembrance day for those who died during the pandemic, as it was on this day in 2020 when the army intervened to carry away dozens of coffins from Bergamo's overwhelmed crematorium.
Prime Minister Mario Draghi paid tribute to the more than 103,000 people in Italy who had died of Covid-19 by that point.
Italy's Covid-19 death toll now stands at over 137,000.