Di Maio said his decision to leave the Five Star Movement (M5S) – the party he once led – was due to its "ambiguity" over Italy's support of Ukraine following Russia's invasion.
He accused the party's current leader, former prime minister Giuseppe Conte, of undermining the coalition government's efforts to support Ukraine and weakening Italy's position within the EU.
"Today's is a difficult decision I never imagined I would have to take … but today I and lots of other colleagues and friends are leaving the Five Star Movement," Di Maio told a press conference on Tuesday.
"We are leaving what tomorrow will no longer be the first political force in parliament."
His announcement came after months of tensions within the party, which has lost most of the popular support that propelled it to power in 2018 and risks being wiped out in national elections due next year.
The split threatens to bring instability to Draghi's multi-party government, formed in February 2021 after a political crisis toppled the previous coalition.
As many as 60 former Five Star lawmakers have already signed up to Di Maio's new group, "Together for the Future", media reports said.
Di Maio played a key role in the rise of the once anti-establishment M5S, but as Italy's chief diplomat he has embraced Draghi's more pro-European views.
READ ALSO: How the rebel Five Star Movement joined Italy's establishment
Despite Italy's long-standing political and economic ties with Russia, Draghi's government has taken a strongly pro-NATO stance, sending weapons and cash to help Ukraine while supporting EU sanctions against Russia.
Di Maio backed the premier's strong support for Ukraine following Russia's invasion, including sending weapons for Kyiv to defend itself.
In this he has clashed with the head of Five Star, former premier Giuseppe Conte, who argues that Italy should focus on a diplomatic solution.
Di Maio attacked his former party without naming Conte, saying: "In these months, the main political force in parliament had the duty to support the diplomacy of the government and avoid ambiguity. But this was not the case," he said.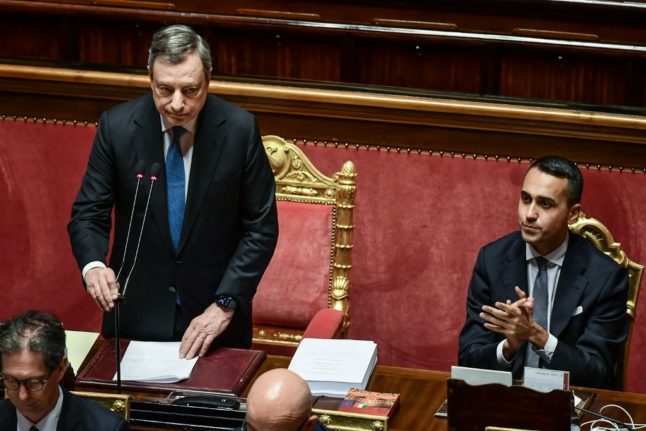 Luigi Di Maio (R) applauds after Prime Minister Mario Draghi (L) addresses the Italian Senate on June 21st, 2022. Photo by Filippo MONTEFORTE / AFP
"In this historic moment, support of European and Atlanticist values cannot be a mistake," he added.
The Five Star Movement, he said, had risked the stability of the government "just to try to regain a few percentage points, without even succeeding".
But a majority of lawmakers – including from the Five Star Movement – backed Draghi's approach in March and again in a Senate vote on Tuesday.
Draghi earlier on Tuesday made clear his course was set.
"Italy will continue to work with the European Union and with our G7 partners to support Ukraine, to seek peace, to overcome this crisis," he told the Senate, with Di Maio at his side.
"This is the mandate the government has received from parliament, from you. This is the guide for our action."
The Five Star Movement stormed to power in 2018 general elections after winning a third of the vote on an anti-establishment ticket, and stayed in office even after Draghi was parachuted in to lead Italy in February 2021.
But while it once threatened to upend the political order in Italy, defections, policy U-turns and dismal polling have left it struggling for relevance.
"Today ends the story of the Five Star Movement," tweeted former premier Matteo Renzi, who brought down the last Conte government by withdrawing his support.