Caronte (Charon), the subtropical anticyclone that has been pushing temperatures across Italy well above average for over a week now, showed no sign of easing off on Friday.
And, with temperatures up and down the stivale expected to further increase over the weekend, Italian health authorities were expected to issue a red alert for 22 of the country's 27 major cities.
Red alerts are generally issued in response to critical weather conditions, including temperatures that are regarded as a serious threat to the health of the entire population and not merely of the most vulnerable (i.e. children, the elderly and people with pre-existing health conditions).
As this map from the health ministry shows below many Italian cities – 19 in total – were already on red alert on Friday for high temperatures.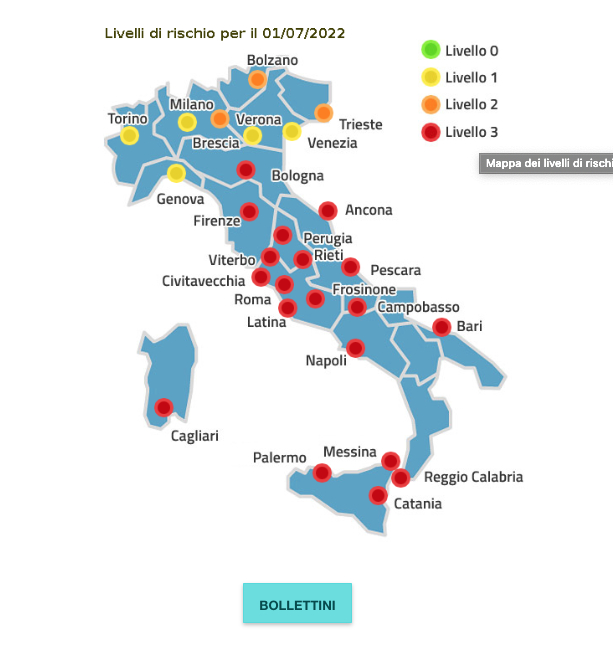 The Italian cities expected to be placed on red alert over the coming weekend were: Ancona, Bari, Bologna, Bolzano, Brescia, Cagliari, Campobasso, Catania, Civitavecchia, Florence, Frosinone, Latina, Messina, Naples, Palermo, Perugia, Pescara, Reggio Calabria, Rieti, Rome, Trieste and Viterbo.
Only five of the country's 27 biggest cities were set remain clear of the government's red alert, though temperatures in such urban areas were still likely to be exceptionally high.
READ ALSO: Italian wildfires 'three times worse' than average as heatwave continues
Turin, Venice and Genoa were set to be placed on yellow alert (meaning no immediate health risk to the population), whereas Milan and Verona were likely to be issued an amber alert (the heat might pose a threat to the health of at-risk groups).
At any rate, regardless of the type of alert for each individual city, the first weekend of July was set to be a scorching one, with some areas of the country set to see the local thermometer reach 42C.
Once again, central and southern Italian regions were likely to be hit the hardest by the heatwave as experts warned that temperatures will be stably above 35C in Lazio, Campania, Calabria and Sicily. 
In the north, temperatures were forecast to swing between 30C and 35C depending on the area of interest.
So, how long will residents have to put up with the current heatwave? According to the latest forecasts, the anticyclone should begin retreating from the country from Wednesday, July 6th.
Temperatures in line with the seasonal average should return in the northern regions first and then in the rest of the peninsula over the following 48 hours.
READ ALSO: Drought hits Italy's hydroelectric plants amid energy crisis
Alas, unprecedented heatwaves such as the one currently affecting the country will become more and more frequent in the future.
Notably, according to Antonello Pasini, a leading physicist at the CNR (National Research Council), the drastic climate change crisis means that most Italians will be forced to endure summers with "temperatures far above average" in the coming years.