Leading newspapers Repubblica and Il Messaggero published front pages warning of Russian "interference" on Friday, while the Corriere della Sera said Russia was "agitating" political waters ahead of the vote.
The headlines came after former Russian president Dmitry Medvedev on Thursday called for European voters to be "not only outraged at the actions of their governments… but to hold them to account and punish them for their obvious stupidity".
READ ALSO: Italy's Salvini questioned over Russia ties ahead of election campaign
"Act, European neighbours! Don't remain silent! Demand accountability!" he said on Telegram.
The government of outgoing Prime Minister Mario Draghi has condemned Russia's invasion of Ukraine, providing Kyiv with military and humanitarian support.
But that support could shift with the likely victory of a right-wing alliance in general elections on September 25th.
La prima pagina di oggi #19agosto https://t.co/LZaZp2ocNj 📰 pic.twitter.com/NKB0HhtXqQ

— Repubblica (@repubblica) August 19, 2022
Two of the three major parties in the right-wing coalition set to take power are known for their staunch support of Russia.
While Giorgia Meloni has said her frontrunning Brothers of Italy party stands with Ukraine, Matteo Salvini's League and Silvio Berlusconi's Forza Italia have long nurtured ties with Russia and its President Vladimir Putin.
Italy's Foreign Minister Luigi Di Maio accused Salvini and other leaders of failing to condemn what he said was clear Russian interference.
READ ALSO: Why does Italy have so many political parties?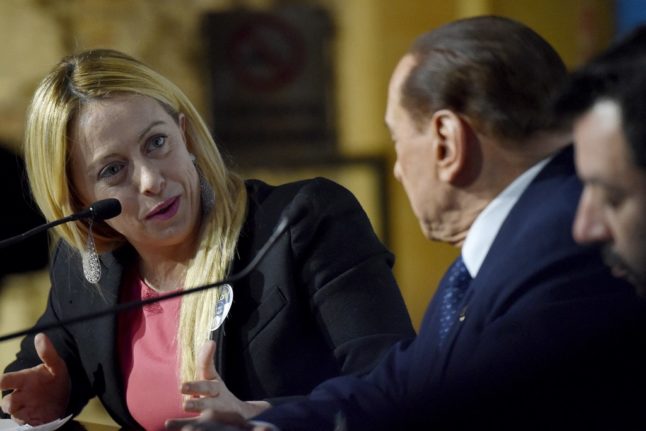 Brothers of Italy leader Giorgia Meloni (L) is tipped to become Italy's next prime minister as part of a strong coalition with Silvio Berlusconi's Forza Italy and Matteo Salvini's League. Photo by Andreas SOLARO / AFP
The head of Italy's centre-left Democratic Party (PD), Enrico Letta, said Moscow was attempting to "change Italian foreign policy, which since the beginning has been very clearly on the side of the European Union and NATO".
Letta also called for Salvini's League to break off a cooperation pact it signed with Putin's United Russia party in 2017.
Salvini, who has long admired Putin, even wearing T-shirts emblazoned with the Russian leader's face, defended himself on Friday, saying he had "not been to Russia for years".
"Russia does not have the slightest influence on the Italian elections," he told journalists in Milan.
READ ALSO: Berlusconi's bad break-up with Putin reveals strained Italy-Russia ties
Medvedev, who was Putin's stand-in president between 2008 and 2012, is now deputy head of the Security Council, but is widely believed to have little influence on Russian politics.
Allegations of meddling by Moscow in Italy are not new.
In July, Russia rejected previous accusations of election interference in Italy's election campaign, which Russia's foreign ministry spokeswoman Maria Zakharova said were nothing more than a "myth".