Meloni addressed thousands of supporters in the port city of Ancona at the first rally for her Brothers of Italy party, with just over one month to go until the September 25th vote.
Since the election date was set, opinion polls have consistently put Meloni on course to become Italy's first female prime minister as well as the first from a post-fascist political party.
READ ALSO: Who is Giorgia Meloni, Italy's likely next prime minister?
The 45-year-old has sought to distance her party from its roots – though she was once at the heart of Italy's post-fascist movement, Meloni now presents herself as a straight-talking "Christian mother".
During a nearly hour-long speech on Tuesday, she railed against the European Union, globalisation, pandemic health measures and mass migration, vowing to "liberate this nation".
In the 2018 elections, Brothers of Italy secured just over four percent of the vote, but is now regularly polling at 24 percent, and Meloni is pitching herself as ready to rule.
The snap vote was called in late July after Prime Minister Mario Draghi's coalition government collapsed, but with most of Italy on holiday, Meloni has so far conducted her campaign on social media.
At her first major rally, she was introduced by Francesco Acquaroli, the Brothers of Italy president of the Marche region of which Ancona is the capital.
READ ALSO: What election promises have Italy's political parties made so far?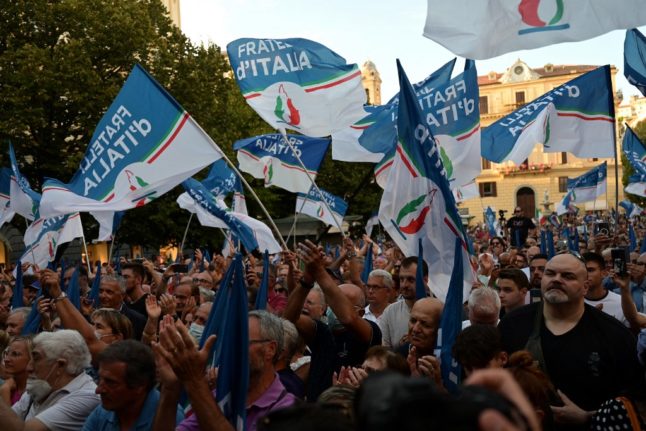 Party supporters at the Fratelli d'Italia electoral campaign launch rally in Ancona, central Italy, on August 23, 2022. Photo by Vincenzo PINTO / AFP
He was at the centre of a controversy in 2019 after attending a dinner celebrating Benito Mussolini's 1922 March on Rome, which marked the beginning of fascist rule in Italy.
Meloni has insisted fascism is in the party's past, while advocating a hard-right programme, from a naval blockade to stop migrants crossing the Mediterranean from North Africa, to an "Italians first" mantra.
At the rally, she also hit back at criticism after she shared a video from a news website purportedly showing the rape of a Ukrainian woman by an asylum seeker in the northern town of Piacenza.
It was later removed by social networks for violating their terms, and Meloni's rivals accused her of using the attack for political gain – but she said was simply "showing solidarity" with the victim, insisting that as a woman, she was "very attentive" to such issues.
READ ALSO: Why does Italy have so many political parties?
Meloni stands out in the heavily male-dominated world of Italian politics, and supporters welcome the prospect of a female prime minister.
"She's a woman, finally a woman, and a real person who doesn't speak like a politician – when you ask her a question, she responds, even if you don't like her," said Dora, a sixty-something visiting from Monza, in the north of Italy.
Paolo Berardi, a 50-something labourer from nearby Jesi, said: "She's a straightforward, nice person and she has clear ideas for us for the future."
He said he used to vote for Matteo Salvini of the anti-immigrant League, but switched his support two years ago, explaining: "Let's try a change."