Produced by The Local's Creative Studio in partnership with Saas-Fee/Saastal Tourism 

A summer playground above the clouds in Saas-Fee/Saastal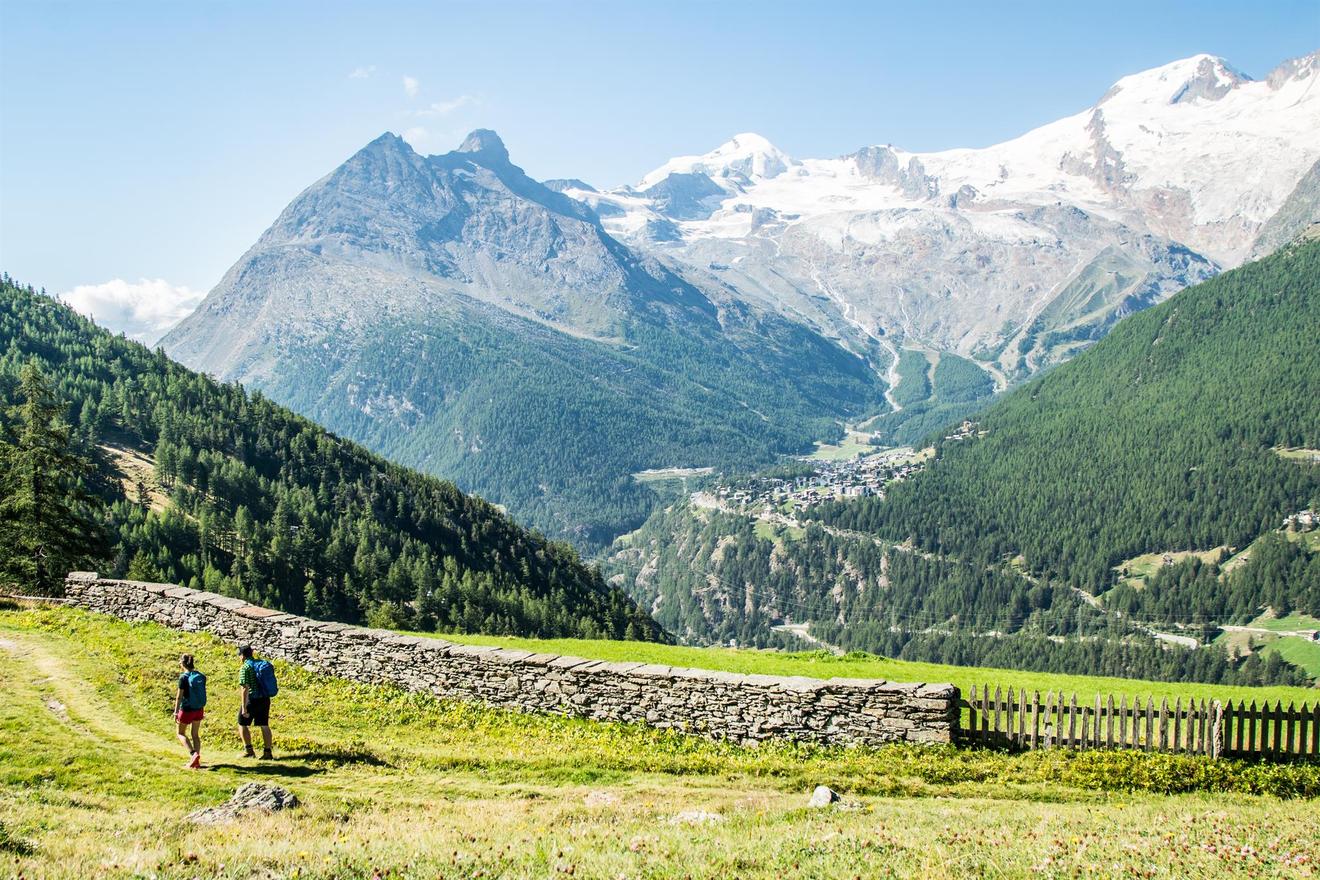 The hidden Swiss valley offering adentures for everyone
Remember how it felt to put your cares behind you and simply play? High above the clouds is a stunning Alpine valley inviting reconnection with yourself and your loved ones. Think of it as one vast adventure playground.
The holiday region Saas-Fee/Saastal is located in the canton of Valais, in the south of Switzerland. Three hours from Zurich, Geneva and Basel, and four hours from Milan, the region is most easily reached by train or car. 
However you choose to get there, you can be sure of a spectacular journey through some of Switzerland's most stunning scenery. It is surrounded by a unique mountain and glacier landscape. In the centre lies the picturesque car-free village of Saas-Fee.
In partnership with Saas-Fee/Saastal Tourism, we offer paths to adventure in the region.
Walking on sunshine
The Saas Valley has over 350km of hiking trails, with routes for every taste and level of ability. Whether it's a real challenge that you're looking for, or something a little more family-friendly, you'll be able to find a hike just right for you. Have a look at the five most popular hikes!
Regardless of which paths you choose to travel during your stay, you'll also have the awe-inspiring sight of the Saas Valley's 18 mountain peaks that soar above 4,000m greeting you at every turn. That's something you won't soon forget!
Want to know how to get around? From your first overnight stay in almost all accommodation, you can get your hands on the SaastalCard when you pay the visitor's tax. With this card, you can use the cable cars and the 'PostBus' service in the region free of charge.
Give yourself a few days to explore every wonder that the Saas Valley offers. Start planning your break today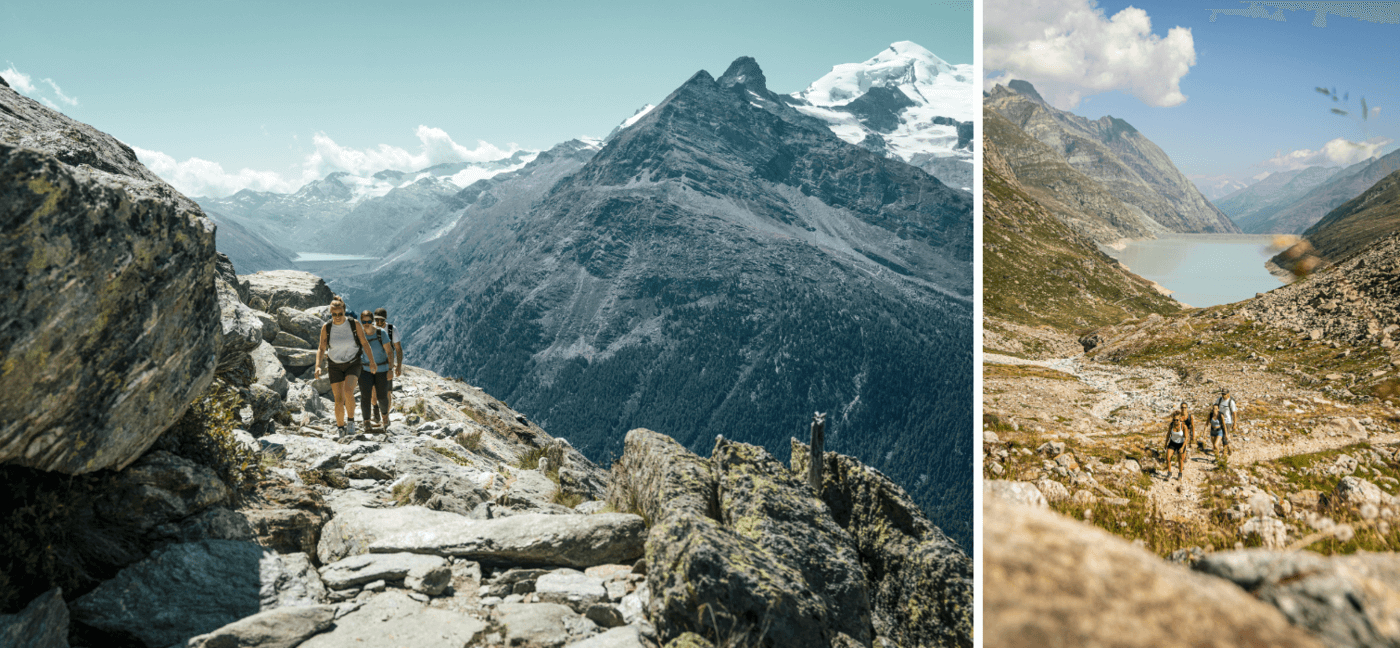 Climbing on top of the world
Those 18 peaks ringing the Saas Valley don't just offer spectacular views, they give those who want to push themselves above and beyond opportunities for adventure.
The majestic Allalin offers the opportunity for visitors to complete their first '4000-er', with the assistance of trained mountain guides, while the Weissmies wait for those hungry for more.
Several 'Via Ferrata' rocky trails, that offer a blend between hiking and rock scrambling, provide a taste of mountaineering to the curious, whereas those who want to practise their rock climbing or bouldering skills have several places to choose from.
Want a different type of thrill? Why not traverse the Fee Gorge with a guide, between the villages of Saas-Fee and Saas-Grund?
You'll be employing bouldering skills and zip lines for a truly unforgettable experience zooming down canyons.
A need for speed?
The high mountains of the Saas Valley also provide world-class mountain biking for speed demons and daredevils.
First, test your skills at the Bike Skills Park Kreuzboden, with well-tended tracks each winding 380m down the mountainside – don't worry, a conveyor belt takes you and your bike back to the top of the bike park run for another go.
Once you're ready to go, there are over 80km of trails to explore, all well-maintained throughout the year and often ending at clear mountain lakes, so you can cool off before heading home.
Whether it's climbing great heights, or speeding down mountain trails, the Saas Valley matches your appetite for adventure. Learn more about the thrills it offers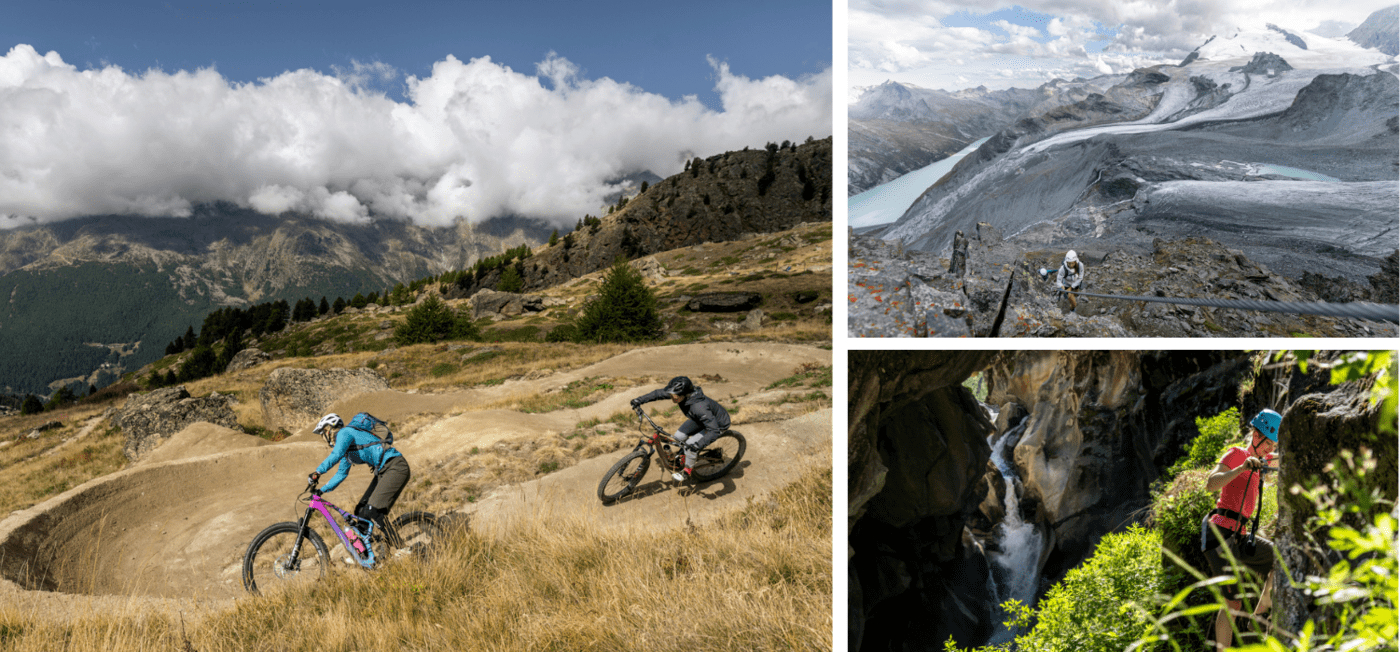 Somewhere to feel young again
There's so much to do in the Saas Valley that involves the entire family – nobody is left out!
Kids will be enchanted by feeding the friendly marmot peanuts and carrots or exploring the exceptional playgrounds throughout the valley.
The whole family will enjoy the opportunity to see glaciers up close and personal at
Längfluh Glacier Park and build a cairn that will commemorate the visit. There are fairy
tales, mysticism and over 2,000 years of history to be explored at the Ice Cave Allalin.
Well-fed, well-rested
After a satisfying day of hiking or climbing, you will need to recover your energy. Luckily,
there's a great spread of regional dishes, including the world-famous raclette, for you to enjoy at a host of wonderful restaurants filling the villages of the Saastal. There's something for everyone!
The same applies to accommodation: Whether it's stunning valley views, warm cosy interiors or space for the kids to spread out, you'll find somewhere that suits your needs for your stay in the Saastal – there are almost 500 options to choose from.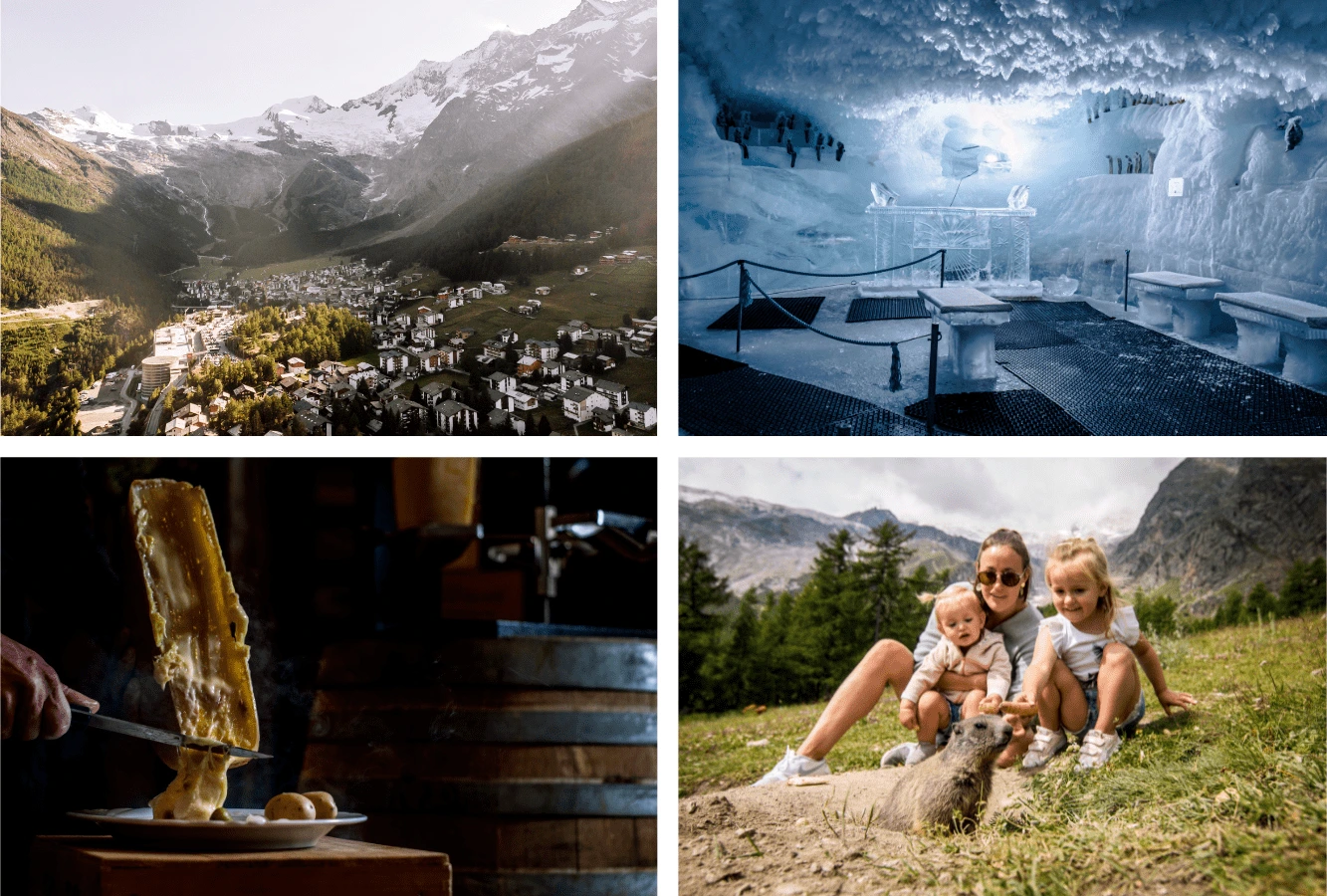 You needn't travel far for adventure
The Saas Valley is an adventure destination in summer, autumn and winter. Inspiring and reviving with its natural beauty, soaring peaks and skies that seem to stretch forever, it's waiting for you right now. Check out some of the flat-rate packages they have available!
With summer approaching, now is the perfect time to discover what adventures are on offer in the Saas Valley!
All images: Saastal Tourismus AG