Centre-left Democratic Party (PD) leader Enrico Letta faced Giorgia Meloni, head of the far-right Brothers of Italy, for the only live debate between the two leaders before the September 25 vote.
"This is a crossroads, a sort of referendum, a bit like in Great Britain when they had to choose between Brexit and staying in the EU," Letta said, calling for "more Europe, not less".
EXPLAINED: Five key points from the Meloni vs Letta debate
Brussels "must deal with the big issues", Meloni said in the debate, streamed by the Corriere della Sera newspaper.
But her right-wing coalition – which includes Matteo Salvini's anti-immigrant League and Silvio Berlusconi's conservative Forza Italia party – also believes countries must be able to protect their own interests, she said.
While the PD's centre-left coalition is pro-Europe, the parties in the right-wing alliance are known for nativist, Eurosceptic views and, in the case of Salvini and Berlusconi, friendly relations with Russia.
Meloni has distanced herself from statements made by Salvini recently in which he criticised EU sanctions against Moscow over its invasion of Ukraine.
READ ALSO: Who is Giorgia Meloni, Italy's likely next prime minister?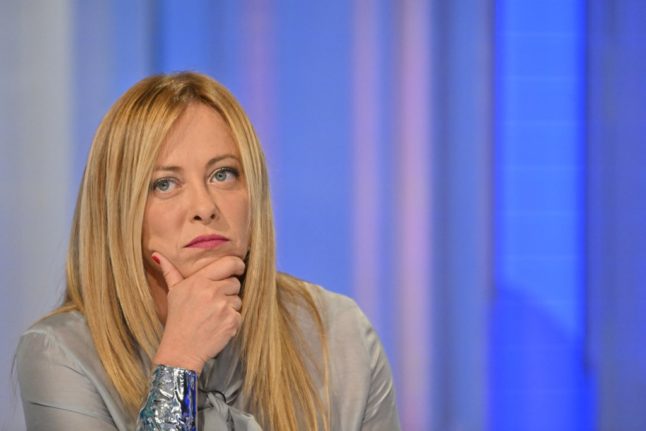 Giorgia Meloni, leader of far-right Fratelli d'Italia (Brothers of Italy) party, is expected to become Italy's next prime minister. Photo by Alberto PIZZOLI / AFP
Meloni, who has wooed Italians with her motto of "God, country and family", won the debate, according to the left-leaning Domani daily.
"Letta lost, unequivocally. He spent the whole debate, just as in the last few weeks, on fighting an imaginary Giorgia Meloni. The one of past excesses… not the institutional version of today", it said.
Brothers of Italy is widely expected to be the biggest winner in the election, with Meloni set to become the country's next prime minister.
The party is polling at 24 percent, with support soaring in recent years – despite it being a political descendant of the Italian Social Movement (MSI), formed by supporters of fascist dictator Benito Mussolini after World War II.
EXPLAINED: Five ways Italy's 2022 elections will be different
The right-wing coalition is expected to take around 46-48 percent of the vote, according to polls.
The PD is expected to pocket 21 percent of the vote, and Letta said his is the only party which can prevent Italy from ending up with a government like that led by Hungarian Prime Minister Viktor Orban.
In a startling move, Letta admitted defeat last week – but urged undecided voters to choose his party anyway, or risk handing the right a landslide victory and the absolute majority in parliament that would allow it to change the constitution.
Letta – whose party is polling just behind Brothers of Italy, but which has failed to pull together an alliance strong enough to challenge the right – said his rivals posed a threat to immigrants' rights, to women's rights, and to LGBT rights.
Meloni said religious identity was fundamental, and said gay couples must not be allowed to adopt – but claimed she had no plans to cut access to abortion.
Find all the latest news on Italy's election race here.