At least ten people have died and four are missing after flash flooding hit Italy's central Marche region overnight on Thursday, pushing the the climate crisis up the political agenda ahead of elections on September 25th.
Hard-right Brothers of Italy party leader Giorgia Meloni, widely expected to become Italy's next prime minister, sent her "full solidarity" to those affected by the flooding in Marche, where her party runs the local government.
UPDATE: Death toll rises to 10 in flash floods in central Italy
Enrico Letta, leader of the opposing centre-left Democratic Party (PD), said he was suspending campaigning, adding that he was left "stunned and speechless" by the tragedy.
"How can you think that the fight against climate change is not the first priority?" he said.
The EU's economy commissioner, Paolo Gentiloni, a former Italian premier, on Friday said: "Italy and Europe must take climate change seriously".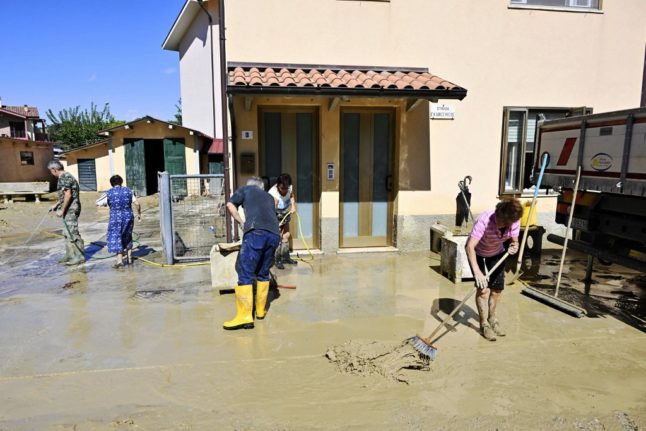 Residents clear up and assess the damage after flash flooding in the Italian province of Ancona, Marche. Photo by Alberto PIZZOLI / AFP.
But the subject has been largely absent from political debate ahead of the elections so far – despite polls finding more 80 percent of Italian voters think climate issues should be a top political priority.
A petition launched by Italian climate scientists in August urging politicians to focus on the environment in the coming election was signed by more than 120,000 people.
READ ALSO: Where do Italy's main parties stand on environmental issues?
Parties have had little to say on the topic in debates and on social media, however, according to a recent study by Greenpeace, and many of the main parties' election manifestos have failed to prioritise climate issues – though they all contain environment and energy-related pledges for the first time.
A detailed assessment by scientists of parties' climate action pledges found manifestos from the PD, Europa Verde (Green Europe), and Sinistra Italiana (Italian Left) had given the issue the most attention, while the joint manifesto published by the right-wing coalition of Brothers of Italy, the League and Forza Italia, was found to be most lacking.
The storms on Thursday pushed the number of extreme weather events in Italy this summer up to 1,642 – five times the number recorded a decade ago – according to data published by farmers' association Coldiretti.
"We are seeing the clear consequences of climate change, as exceptional weather events are now the norm in Italy," Coldiretti stated.
This summer's drought, the worst in 70 years, drained the Po River, Italy's largest water reservoir, while exceptional heat fuelled forest fires and caused a spike in heat-related deaths
READ ALSO: Climate crisis: Italy records 'five times' more extreme weather events in ten years
The baking heat has in recent weeks been followed by storms, the water flooding land rendered hard as concrete.
In July, 11 people were killed when a section of Italy's biggest Alpine glacier collapsed, in a disaster officials blamed on climate change.