Many people with ski trips booked in the coming weeks are wondering whether they can go ahead following reports of unusually warm weather melting snow and forcing ski slopes to close around Europe.
In France, many lower-altitude resorts were only able to keep their doors open for a few weeks this season before temperatures rose too high for snow to remain deep enough for winter sports, while in Austria and Switzerland many resorts were forced to close over the Christmas break, or have opened summer trails instead.
In Italy, there were also some reports this week of slopes closing due to a lack of snow. But Italy has not so far experienced the same record high January temperatures as its Alpine neighbours to the north. 
Eight countries across the continent recorded their warmest January day ever on Wednesday, including France, Switzerland and Austria – however Italy posted no records, despite experiencing a long spell of unusually mild weather.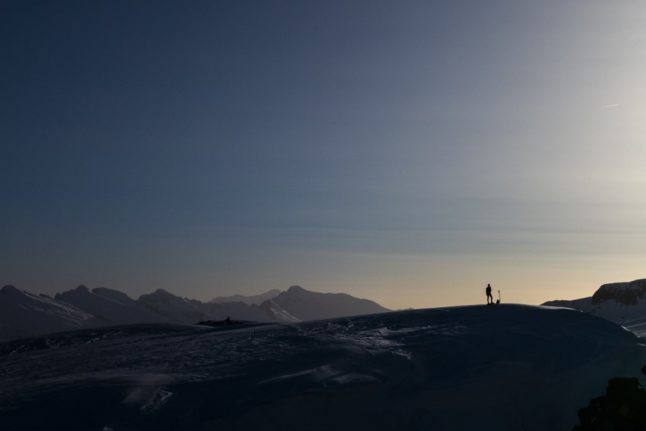 A skier rests at the top of the Col Margherita pass in Falcade, Venetian Alps. Some Italian ski resorts have struggled to remain open this winter with less snow on the ground than usual. (File photo by Marco Bertorello / AFP)
Italian resorts overall were less affected by the recent warm weather than many in France, Austria or Switzerland, with resorts in Italy's Dolomites and those at higher altitudes reporting good snowfall since November.
"As Italian resorts largely avoided the Christmas rain showers, conditions are actually pretty good across the country, although the snow isn't very deep," reported the Snow Forecast weather website on Thursday.
Whether or not your winter holiday plans are likely to be affected by the warm weather depends on where in Italy you're planning to go – and at what altitude.
Higher-altitude ski hotspots in northern Italy have plenty of snow at the moment and visitors were able to make the most of it over Christmas and new year.
"It would be better if it was colder, but there's no lack of snow," said Tomas, a Swedish skier visiting the Italian resort of Breuil-Cervinia, which at above 2,000 metres above sea level is one of Europe's highest ski resorts.
In Courmayeur, on the Italian side of Mont Blanc, resorts were fully booked until after the January 6th holiday.
French visitor Olivier said conditions for skiing "had been pretty good all week" on Courmayeurs higher slopes, though some pistes at lower altitude had closed.
READ ALSO: Why your ski trip in Italy will be more expensive this winter
But for ski resorts in the centre of Italy, which are often frequented more by Italians than international visitors, trips were cancelled over the holidays after warm weather and rain melted snow and forced many ski slopes to shut.
In the Apennines, average temperatures this week of between 2-8 degrees were recorded at a thousand meters, which made it too warm even for the use of snow canon.
In montagna fioccano disdette al posto della neve. La (drammatica) situazione all'Abetone https://t.co/05jq8gzgpS

— Il Tirreno (@iltirreno) December 28, 2022
Ski slopes were closed over the holidays everywhere from Terminillo in Lazio to Abetone in Tuscany and Campo Imperatore in Abruzzo, where only the cable car is still operating.
Operators across resorts in the Appenines told Italian media they had suffered losses of tens of millions of euros so far and could only hope for better conditions between January and March.
READ ALSO: How climate change left Italy's ski resorts fighting for survival
And for those still waiting to hit the slopes, the big question now is when the next snowfall will arrive.
The long spell of unusually warm temperatures is forecast to end in Italy by January 9th, after which colder and more wintry weather is expected to begin – though there are no firm predictions yet of snow in lower-lying areas.
While ski trips to Italy this winter may still be able to go ahead as planned, in the longer term things aren't looking good for the industry with global heating set to radically change winter tourism.
"Winters are becoming warmer in Europe as a result of global temperatures increasing," Freja Vamborg, climate scientist at the European Union's Copernicus Climate Change Service, told Reuters.
The decline of Italy's ski resorts has been underway for years, with some 300 resorts closing in the last three decades, primarily at lower altitudes and due to a lack of snow.