Presented by american express
Local Guide: the best of Rome
Exploring all that Rome has to offer - from its architectual brilliance to the local markets - is almost impossible. But here are the bits you really won't want to miss...
The Basics
When in Rome, do as the Romans do…it's a cliché, but also kind of true – especially when it comes to food.
Few cities in the world can rival Rome when it comes to artistic heritage, historical legacy, and luscious cuisine. The Eternal City is haven of ancient artefacts, world-class museums, and ornate piazzas – a colossal of furtive cobbled streets, each with their own story to tell and history to explore. The heavenly aroma that seeps from the ancient buildings and monuments is something that will never leave you – a beautiful concoction of coffee, fresh fruit, and vegetables mixed with a zest for life, love, and fun.
Rome wasn't built in a day, and neither can it be explored in a day.  But with these hints and tips, you'll stand a better chance of getting the most you can out of what promises to be a memorable trip to the Italian capital…  
The Highlights
Colosseum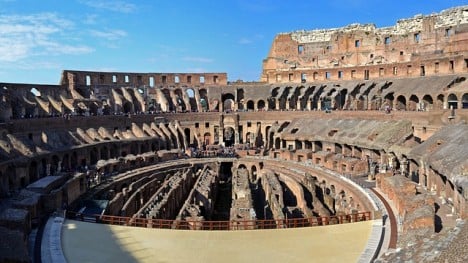 There's nothing original about this suggestion – in fact, it's probably on top of the vast majority of city guides as the number one attraction in Rome, and justifiably so. Whether you choose a moonlight tour to see the Colosseum lit up after dark or an underground tour to explore where the gladiators would prepare for battle – the best way to experience the Colosseum in all its glory is with a guided tour. Yes, it's busy, and of course it's touristy, but it's also unlike anything you'll have ever seen, or ever will see again.  
Campo de' Fiori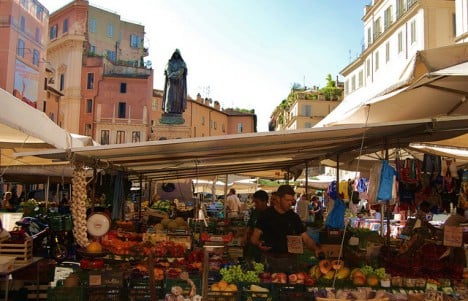 A bustling marketplace by day and a dining hotspot by night, Campo de' Fiori is a favourite among the tourists and locals alike. Swing by during the day to immerse your senses in the delightful aromas erupting from the endless stalls of fresh fruit and vegetables, and don't forget to pick up those all important souvenirs from the stream of (supposedly) authentic Italian gifts.
Earn a trip to Rome with your EuroBonus American Express Credit Card
Be sure to return in the evening for a completely different experience – enjoy a glass (or bottle) of wine at one of the many bars and restaurants before dining beneath the stars with that unforgettable market scent lingering in the cool Italian air.
Pantheon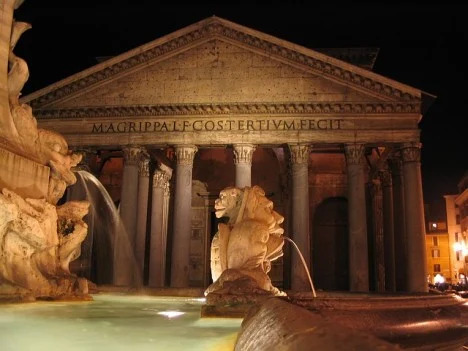 Originally built between 27 and 25 BC as a small temple dedicated to the Roman gods, today the Pantheon is the most preserved building of Rome's ancient monuments, and one of the most influential buildings in the world. Beyond the imposing sight of the 16 Corinthian columns is a demonstration of Roman ingenuity – the largest concrete dome in architectural history.
The view within the Pantheon is just as breathtaking as it is from the outside – a daunting open space lit only by the streak of natural light from the oculus. Best of all, visiting this masterpiece won't cost you a penny – the best things in life really are free!      
Piazza di Spagna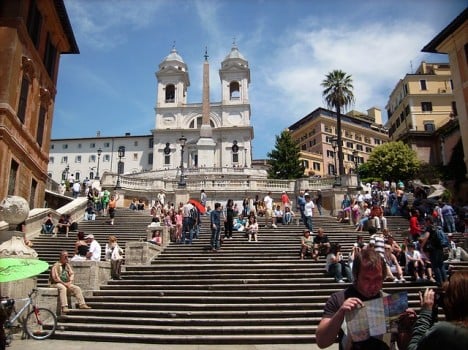 Admiring the wealth of historical buildings and artefacts Rome has to offer is unequivocally fascinating… but you might eventually (or inevitably) need a break from the old in order to shop for the new, and if (or when) that happens, Piazza di Spagna is the place to go!
With a variety of upmarket brands and classy department stores, a couple of easy hours here is guaranteed to quench your retail therapy thirst. What's more, Piazza di Spagna is located at the bottom of the achingly beautiful and historic Spanish Steps which are also worth a visit…there's no escaping a history lesson when you're in Rome!
Vespa Tour of Rome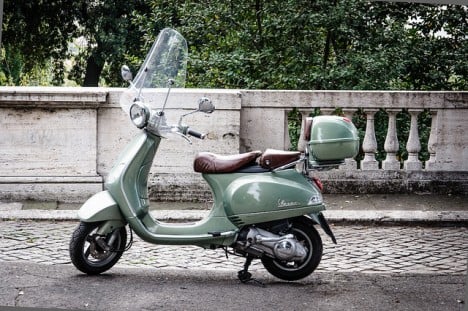 This might not be the first thing you do, but by the end of your trip, you'll be delighted it's something you've done in Rome. Recreate those archetypal shots of Vespas whizzing around the Eternal City that you've no doubt seen in the movies with a Vespa Tour of Rome by Scooteroma. Ride along the ancient cobbled streets of the capital experiencing sights, neighbourhoods, and special locations that aren't accessible by foot in an exhilarating and informative way.
Earn a trip to Rome - by shopping
The Self Drive Vespa Tour of Rome is incredible, but for an even more extraordinary experience, opt for the Foodie Vespa Tour and indulge your senses with some classic Italian food markets, traditional Roman street snacks, and the oldest bakeries in town.
The Hidden Gems
Parco Degli Acquedotti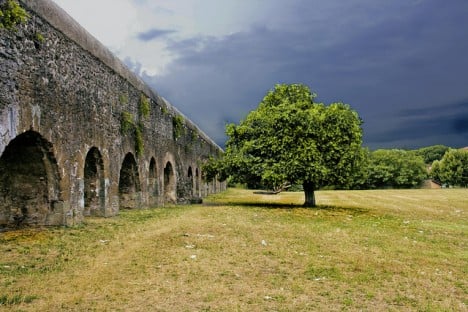 Break away from the city for a few leisurely hours in the lush surroundings of Parco Degli Acquedotti. Easily accessible and perfectly located just outside the city, this is the best spot in Rome to soak up the Italian sun, pause for a picnic, or take a laidback stroll in the fresh open air. And if that's not enough to convince you to visit, then the outstanding Roman viaduct (Aqua Claudia) that towers above the greenery is sure to twist your arm.    
The Aventine Keyhole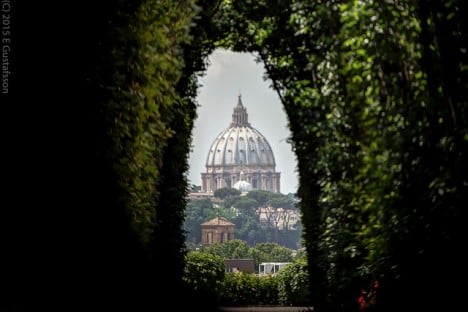 No one seems to know whether the striking view of Rome veiled in the keyhole of an inconspicuous door on the Aventine Hill was a happy accident or masterfully executed peepshow, but one thing's for sure – it is totally worth a visit.
The clandestine keyhole vista reveals a sweeping view of St. Peter's Basilica perfectly aligned with the garden on the opposing side of the door – it's a spectacle that will become deeply ingrained in your memory of Rome, partly because it's utterly picturesque, and partly because taking a photograph of the view through a keyhole is no easy feat…   
Gianicolo Hill (Janiculum)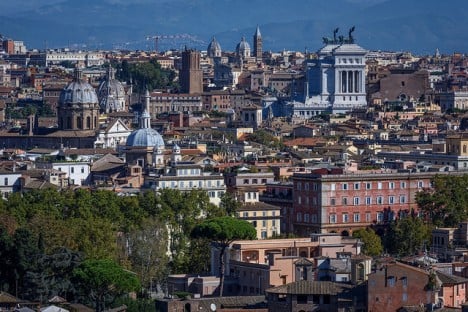 Speaking of stunning views, if you're looking for that instagrammable shot of Rome guaranteed to make all your friends and family green with envy, then Gianicolo Hill is the place to go!
After a reasonably short walk to the top, you're rewarded with a tremendous panoramic view of the city in all its elegance and beauty, including glimpses of such ancient landmarks as the Colesseum, the domes of the city centre, and Pincio Gardens of the Villa Borghese. It's peaceful and quiet – except when a single shot of a cannon is fired at noon of each day to mark the exact time (a quirky 19th century tradition!)
San Lorenzo
The young soul of an otherwise ancient city, San Lorenzo is rapidly rising to its reputation as the energetic, up-and-coming district of Rome. It may not share the same grace and prestige as Centro or Trastevere, but if you're looking for an upbeat, tourist-free neighbourhood with a chic lifestyle and buzzing nightlife, San Lorenzo is the place to be.
With a dense student population, there's a real bohemian vibe to this dynamic part of Rome, a vibe that is amplified throughout the effervescent underground bars, cafés and hip discos that are sprinkled around the neighbourhood. Street art and graffiti galore, San Lorenzo goes against the grain of Ancient Rome in a way that's affordable, unique, and a whole lot of fun.
Where to eat
Osteria Bonelli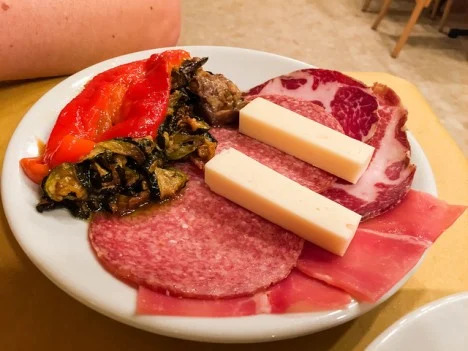 Dining in Rome is a wonderful experience, but if you don't know where to go, it's easy to wind up in a classic tourist-trap restaurant unknowingly grazing on little more than a frozen pizza. For an authentic Italian experience, follow the locals to their favourite feasting spots dotted around the city.
Osteria Bonelli, for instance, is a true culinary gem with all the interior charm and homely feel of a warm Italian grandparents' kitchen. Their delectable menu of reasonably priced pasta dishes demonstrates how real Italian food should be – a lot of pasta and a lot of love for not a lot of money!       
La Pergola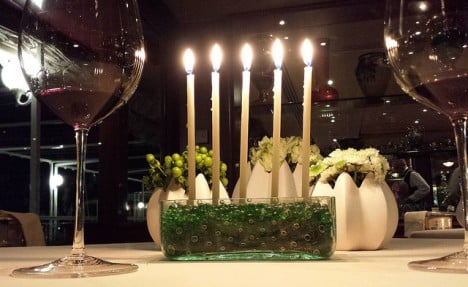 Add a dollop of quality to your Rome dining experience with a luxurious evening at La Pergola – the only three-star Michelin restaurant in the Italian capital. With exquisite interior décor and stunning views over the Eternal City, the mouth-watering food at La Pergola is every bit worthy of the grand location and upmarket price that comes with it.
Bonci Pizzarium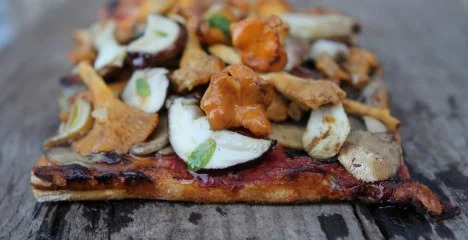 You cannot visit Italy without grabbing a takeaway pizza at some point during your stay – so why not swing by Bonci Pizzarium, and enjoy some of the best pizza in Rome. The crazy range of flavours and combinations are just as amazing as the taste and crispiness of the crusts and pizza bases. A slice of authentic Italian pizza, but with a trendy Roman twist, pizza from Bonci Pizzarium is a must try when you visit.
Roscioli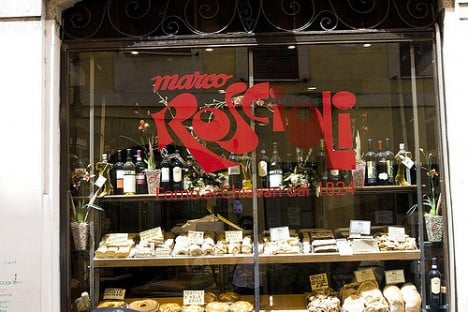 This is the place to turn to for a real celebration of Italian cuisine. With wine tasting, a sumptuous bakery, and traditional patisserie, Roscioli offers much more than a fancy meal downtown.
That said, the speciality dishes: Carbonara Roscioli and Pizza Rossa Roscioli, are absolutely divine, and would be a welcome treat after a spot of wine tasting, or simply as a fitting end to a long day in the Italian capital. Food at Roscioli oozes quality and screams passion, the service is excellent and the location even better – there really are few greater ways to top off a day in Rome than with a meal at this culinary gem.
Pane e Salame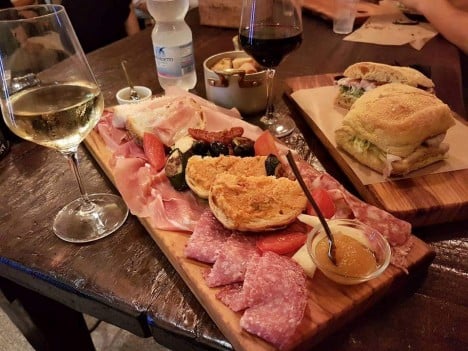 Want a quick snack in the middle of Rome? Pane e Salame is where you need to be. It may look like your average sandwich shop from the outside, but on the inside awaits a gastronomic experience your taste buds won't regret or forget.
Pane e Salame doesn't just sell sandwiches, they craft them with care and serve them with affection – these are sandwiches with a Roman kick. It's a popular retreat for both tourists and locals, and with its central location, there is often a lengthy queue. But if there has ever been a lunch worth waiting for, this is surely it.
Getting there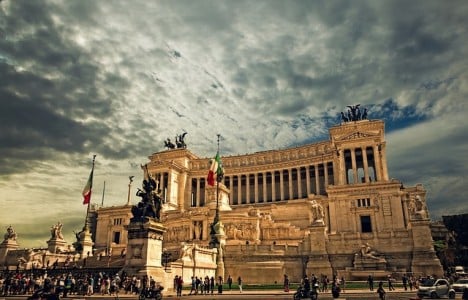 When in Rome you now know exactly what to do – but first you have to get there
Luckily there are plenty of quick flights from Stockholm, Copenhagen, and Oslo.
You can also get there using 30,000 SAS EuroBonus points. Or,if you earn just 15,000 points with SAS EuroBonus American Express® Classic Credit Card in one calendar year – that's enough to get you there, too! When you spend 100 000 SEK or more in one calendar year you get a 50 percent discount on a bonus trip with SAS within Europe. Find out how to earn your Rome trip here.
Book a flight or find out more about American Express SAS EuroBonus Cards
This article was produced by The Local and sponsored by American Express.
This content was paid for by an advertiser and produced by The Local's Creative Studio.
See Also