If you're in Italy right now, you must have wondered: will summer ever end?
Not any time soon, if centuries of experience are anything to go by. So accustomed are Italians to these sunny October days that they even have a word for them: ottobrata.
The term refers to a period in October (ottobre) when a recurring patch of high pressure over the Atlantic creates hot, dry conditions in the central Mediterranean. In Italy that translates into several weeks of clear skies and temperatures so warm you can happily leave your arms bare (unless you're afraid of a colpo d'aria, but that's another story).
It's what we'd call in English 'an Indian summer', if we were lucky enough to be able to expect one every year.
Che splendida ottobrata!
What a wonderful Indian summer!
While l'ottobrata nowadays describes this spell of fine weather, originally it referred to a custom of taking advantage of the October sunshine – and the ripening grapes – to make an excursion into the countryside, not unlike what's now called a gita fuori porta.
The tradition is closely associated with Rome, where typical ottobrate romane (October Roman outings) included wine-fuelled picnics on Mount Testaccio or at the closest vineyards outside the city walls, and involved setting off by cart early on a Thursday or Sunday for a full day of eating, drinking and dancing.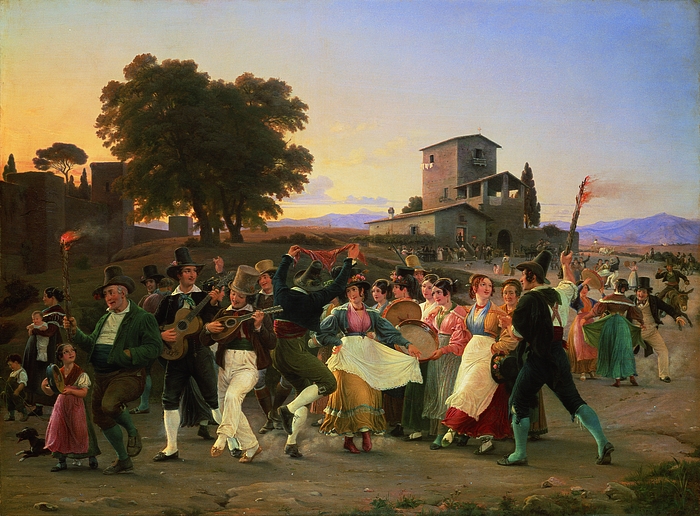 Wilhelm Marstrand, 'October Festival evening outside the walls of Rome', 1839. Photo: Thorvaldsens Museum 
Some say the reason was that the townsfolk needed to empty their cellars before the year's new wine arrived; we say you don't need an excuse to head out into the Italian countryside when the weather's warm and the harvest's in.
The areas that Romans once trekked to for their ottobrate have long since been overtaken by the city, but you can find some ideas for modern-day excursions in this list of day trips from Rome.
Facciamo un'ottobrata questo fine settimana?
Shall we go on an outing this (October) weekend?
You might also see the term used to refer to events or festivals taking place in October, of which there's never any shortage in Rome or elsewhere. Think of it as the Italian Oktoberfest.

The 'Ottobrata Zafferanese' runs throughout October in Sicily, near the slopes of Mount Etna. Photo: Facebook
Do you have an Italian word you'd like us to feature? If so, please email us with your suggestion.