Presented by Send My Bag
Relocating? Excess baggage fees are taking off. Here's how to avoid them
There are few more thrilling experiences than packing up and moving across the world to work or study. Yet, as those who have made such a move know, there are rising costs involved – one of the most significant is getting your valuable possessions where they need to be.
Despite your best efforts to pack light, you may find you'll need to pay more than you're used to in excess baggage fees when flying to your new home country. It's important to know how and why this is happening,
The Local, in partnership with baggage forwarding service Send My Bag, examines how airlines have raised these fees (among many others), why they're doing it, and how you can save money when sending your luggage abroad.
Costs take off
Online discussions around airline travel appear to indicate fees for excess baggage have been rising significantly, but it's hard to grasp the extent of these increases without firm data.
To get a clearer picture, The Local compared the prices of one piece of excess checked baggage (with a weight limit of between 23 and 32kg, depending on the carrier) for nine popular international airlines in both 2019 and 2023*. All prices were converted to euros, and 2019 figures were adjusted for inflation using an online calculator. The data was taken from sources such as Skyscanner and airline websites.**
| | | | |
| --- | --- | --- | --- |
| Airline | Fee 2019 (EUR) | Fee 2023 (EUR) | Percentage +/- |
| Air France | | | +36.30% |
| British Airways | | | +14.80% |
| Delta | | | +30.40% |
| Etihad | | | +416.60% |
| Eurowings | | | +13.3% |
| KLM | | | +172.7% |
| Lufthansa | | | +6.6% |
| Turkish Airlines | | | +121.2% |
| Virgin Atlantic | | | -4.20% |
With just one exception, we see a wide margin of fee increases, from 6.6 percent to more than 400 percent. 
It's also worth noting that airline websites show the price for each additional piece of excess checked baggage rapidly increases – doubling and sometimes even tripling. Take enough bags, and you could pay your airfare again in fees.
Whether you're relocating to study abroad, work abroad temporarily or even on a more permanent basis, relying on excess baggage to help you make the move may not be your best choice.
You should also know that many low-cost airlines, such as Ryanair, have a sliding scale of fees for additional baggage, with a price per kilo above 20kg, making it difficult to budget in advance for any excess baggage fees.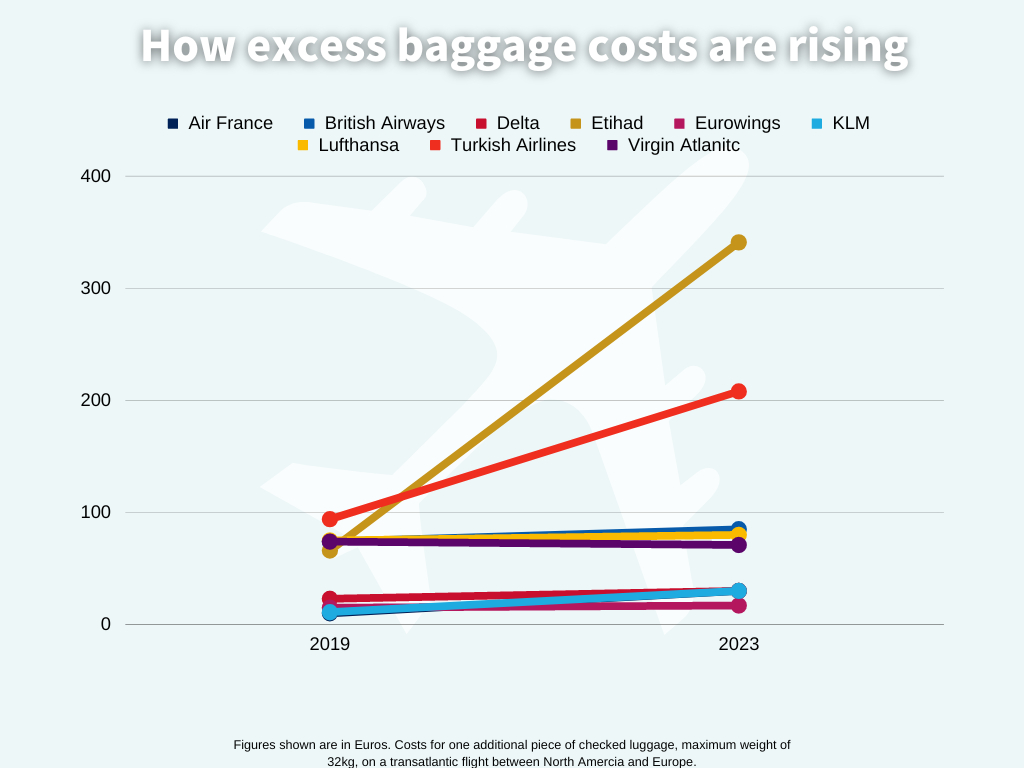 Airline excess baggage fees can make flying a bumpy ride. Send My Bag is an affordable, flexible way to send your bags internationally
Weathering global turbulence
Looking at these figures, it's easy to understand how airlines made over $20bn in excess baggage fees in 2021, amounting to more than four percent of global airline revenue.
To understand the reasons behind this, the impact of two recent global events must be taken into account.
The first, unsurprisingly, was the Covid-19 pandemic. In 2020, as global flight restrictions took effect, airlines reduced the number of seats available by 50 percent, with a gross passenger revenue loss of $372bn.
The war in Ukraine has also since affected the prices airlines charge. Boycotts of Russian oil, the reorganisation of global logistics chains and flight rerouting caused by bans on access to Russian air space have all had an impact, leading to an increase in airfares of about 20 percent between Europe and the Asia-Pacific region. 
While the global travel industry is already recovering from the effects of the pandemic, sudden increases in airfares could potentially derail airlines' return to earlier levels of profitability. Therefore, some airlines may seek to recoup costs through optional fees – such as those for excess baggage.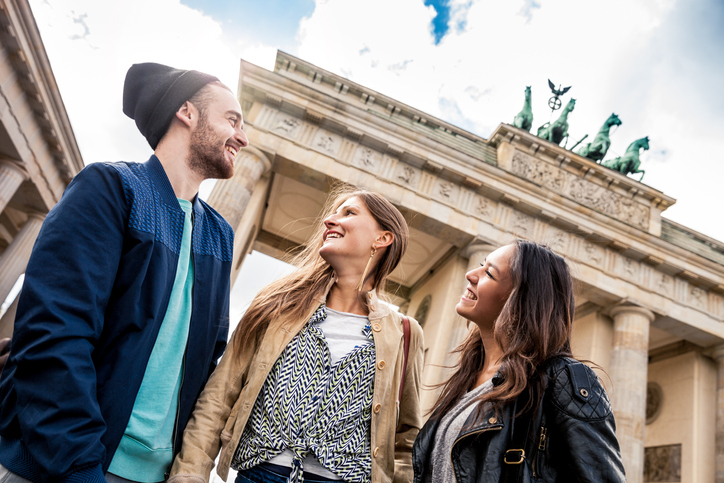 Relocating to Europe? Spend more time exploring your new city and less time worrying about bags. Photo: Getty Images
A friendlier way (for your bags) to fly 
Whatever your budget, nobody wants to pay hundreds of euros in excess baggage fees. When factoring in the rate at which commercial airlines seem to lose or damage baggage, you may well be ready to consider alternatives for sending your possessions abroad.
Baggage-forwarding services such as Send My Bag are a godsend to those moving abroad to work or study.
Using a baggage-forwarding service means that your possessions are carried by a network of international courier companies. Without having to factor in available space in passenger airline holds, they can offer much cheaper rates to transport your bags, and do so more flexibly.
With a baggage-forwarding service, bags are also tracked in real-time, using the complex logistics technology that international couriers have at their disposal. Send My Bag, for example, uses an app, available for Apple or Android, allowing you to see where your bags are at any stage.
Most attractively, services such as Send My Bag can deliver your luggage door-to-door. Rather than having to worry about transporting and carrying your bags to and from the airport, your bags can be picked up and delivered to your new home seamlessly, without any other hassles.
Moving abroad is a thrilling experience, but baggage worries can leave you feeling less than sky-high. Discover how Send My Bag makes relocating easier
* For a transatlantic journey between the US and Europe. 
** Information accessed March 2023 from publicly-available websites.
This content was paid for by an advertiser and produced by The Local's Creative Studio.
See Also