Elin Mattsson, a painter and mother of four from Finland, slammed the Italian education system in an open letter published in Siracusa News explaining why she couldn't live in Italy and didn't want her children to study in the country's schools.
After her childrens' experiences at schools in Syracuse, Mattsson and her family quickly decided life in Sicily "wasn't worth it" and moved back to Spain.
The family of six, including children aged 15, 14, six and three, relocated to Syracuse in August as Mattsson explained she and her husband, an IT manager, were able to work remotely.
"We wanted to experience your amazing climate and culture but sadly our stay did not go as planned," Mattsson wrote.
"We've lived in both Spain and the UK before and (naively?) thought the education system would be similar across the Mediterranean, but boy, were we wrong."
Si trasferisce con la famiglia in Sicilia, ma se ne va dopo due mesi. La lettera denuncia della mamma- finlandese: "La vostra scuola è povera e arretrata" https://t.co/0Io447qR3x

— La Stampa (@LaStampa) January 9, 2023
"The school system is so poor," Matsson said, describing a catalogue of issues from out-of-control classrooms and a lack of outdoor time to English teachers with a less-than-stellar command of the English language.
It "took us just a couple of months" of school in Syracuse to "realise that it wasn't worth it", she said.
READ ALSO: Are Italians really the 'worst in Europe' at speaking English?
Mattsson said she had "doubts" from the day she went to the school to register as "the noise of the classes was so loud that I wondered how the hell it was possible to concentrate."
She said her children later described teachers yelling, blowing whistles and "shouting and banging on the tables" in classrooms, and she discovered that "the school day is spent in the same chair from morning until you go home. What?"
She was told the children only get "little breaks in the same classroom".
And when she saw the kindergarten she said she was "worried", describing the garden as a "patio" with "nothing to play with".
"Where was all the climbing stuff? Nothing? Shouldn't children also play in kindergarten? No, an empty garden around the perimeter of the building. It wasn't good."
"I can understand the energy level of the kids when they don't have time to physically release it, like in breaks."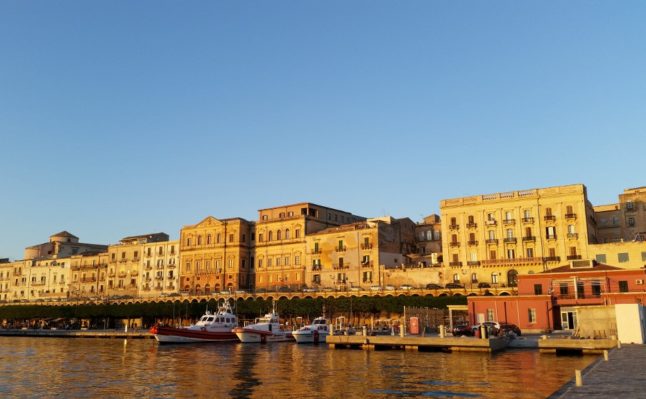 The family moved to Syracuse, Sicily for 'climate and culture' but left in search of better schools. (Photo by Ludovic MARIN / AFP)
As well as urging Italy's education authorities to "let kids play outside", she criticised the fact that parents are expected to accompany their children to and from school, which she said was not the norm in Finland for those over seven years old.
In stark contrast to the "total traffic chaos" of the school run in Italy, she said children in Finland "use a bicycle or walk and if they live more than five kilometres from the school they can go by taxi or school bus. They have lunch at school, then go home alone when the school day is over."
"Why don't you offer lunch at school? Why don't you see the benefits of children going to school and home on their own?" she asked, concluding: "Bye bye Syracuse and hola Espana".
Italy's education minister commented on the letter on Wednesday, Siracusa News reported, saying: "Italian schools have teachers and managers of absolute value who do an excellent job on modest salaries". 
"Let's not generalise based on extemporaneous judgements," Minister Giuseppe Valditara added.
A response to the letter from Nicoletta Tancredi, a high school teacher in Salerno, was published by news agency Ansa: "I work in an Italian school. And sometimes I would like to escape too …. And I tell you: you're right! For years, Italian reforms have not taken education into account. They do not put the learner at the centre."
READ ALSO: 'Educational crisis': Italy's schools compare badly with the rest of Europe, study finds
Online reactions to the letter ranged from some Italian parents agreeing that standards in many schools were poor, to international parents criticising the family's decision to move to Sicily, which consistently ranks among the Italian regions with the lowest levels of educational attainment.
Data compiled by national statistics bureau Istat reveals wide regional gaps in educational standards in Italy, with a particularly stark divide between central-northern regions and the country's poorer south, or Mezzogiorno. 
At the very bottom of the rankings are Calabria, Sicily, and Sardinia, where close to half of all students had poor literacy skills and around 60 percent had an inadequate grasp of mathematics in 2019.
In the northern province of Trento, just 16.8 percent of students had below-satisfactory literacy skills and 15.3 poor maths skills.
Overall, Italy consistently performs below the EU average when it comes to completing school and graduating from university.
What is your experience of the Italian education system? Do you agree or disagree with the letter writer's opinions? Please let us know your thoughts in the comments below.