As protestors accused her right-wing government of risking lives with its hard line on migration, Meloni shifted the focus from those taking leaky boats across the Mediterranean to those who exploit them.
She said her ministers had agreed on a decree introducing a new type of felony for those who cause death or serious injury by human trafficking, a crime which will be punishable with up to 30 years in jail.
READ ALSO: 'Political stunt': Protests as Italian ministers visit deadly migrant shipwreck site
At least 72 people, including many children, perished when their overcrowded boat sank in stormy weather just off the coast of the southern region of Calabria on February 26th.
Critics say the government's policy of treating migrant boats in the Central Mediterranean as a law enforcement issue, rather than a humanitarian one, may have fatally delayed the rescue last month.
In response, the government announced a further focus on law enforcement.
"We are determined to defeat human trafficking, which is responsible for this tragedy," Meloni told journalists following a cabinet meeting.
"Our response to what happened is a policy of greater firmness on the ground."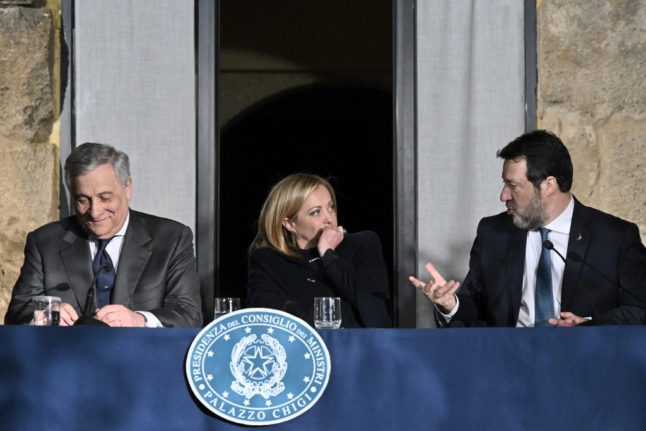 Italy's Deputy Prime Minister and Foreign Minister, Antonio Tajani, PM Giorgia Meloni and Deputy Prime Minister and Minister of Infrastructure Matteo Salvini hold a press conference after a meeting at the town hall of Cutro near the site of February's deadly shipwreck. (Photo by Tiziana FABI / AFP)
Meloni also announced measures which she said would improve legal routes for people coming to Italy from certain countries via a limited quota of work permits, though there was no mention of safe routes for those seeking asylum.
She said the decree provides for a system of work-permit quotas "reserved for countries that cooperate with Italy" in discouraging their citizens from trying to enter illegally.
The announcement came after the government held its weekly cabinet meeting in the town of Cutro, near the site of the deadly shipwreck.
Protestors outside the town hall described the move as a "publicity stunt" intended to deflect criticism of the government's response to the tragedy so far.
Meloni's far-right Brothers of Italy party won elections last year on a pledge to stop sea arrivals, and her governing coalition, which includes Matteo Salvini's anti-immigrant League, has clamped down on charity rescue boats.
READ ALSO: Italy launches probe into deadly shipwreck as new rescue saves hundreds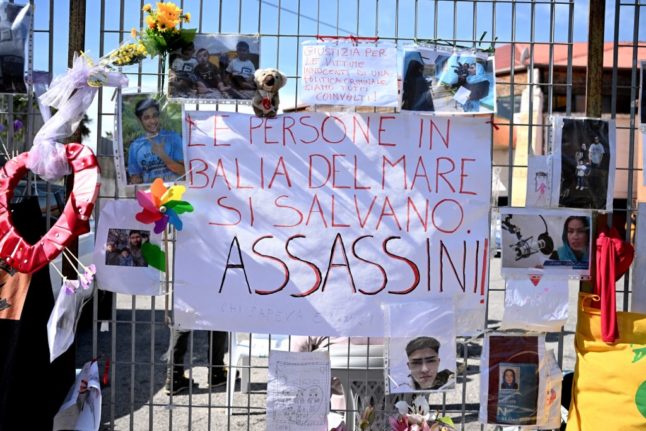 A message reading: "People at the mercy of the sea must be saved. Murderers!" at a memorial in Crotone. – The Italian Prime Minister held a cabinet meeting in the area on March 9th following accusations that her government's migration policies cost lives. (Photo by Tiziana FABI / AFP)
Meloni and Interior Minister Matteo Piantedosi have rejected accusations they failed to intervene to save the boat, which set off from Turkey and was carrying Afghan, Iranian, Pakistani and Syrian nationals.
Prosecutors have opened an investigation into the disaster, which occurred despite European Union border agency Frontex saying it had alerted Italian authorities to the heavily overcrowded boat.
Piantedosi, fiercely criticised for initially blaming the victims for trusting their lives to traffickers, told parliament on Tuesday that Frontex had not said the boat was in any danger.
But opposition leaders insist the coastguard is supposed to rescue all vessels carrying migrants because boats run by human traffickers are inevitably dangerously overcrowded and ill-equipped.
They have also asked why a rescue operation was not launched once police boats that had been sent out to meet the vessel were forced to turn back in increasingly rough seas.
A member of parliament who visited some of the 80 survivors told the La Repubblica newspaper on Tuesday that they had been kept in poor conditions, without even enough beds or special provisions for families and minors.
Meloni has called for the EU to further bolster efforts to tackle the issue that she says penalises Italy.
The country records tens of thousands of arrivals by sea yearly, mainly from North Africa.
Speaking as EU interior ministers met in Brussels to negotiate the distribution of asylum claims, Meloni said Italy needed concrete solutions to the tens of thousands of migrants who reach its shores annually, mainly from
North Africa.
"Italy can not confront this situation alone," she said.