Italy first declared a state of emergency on January 31st 2020, as the first known cases of coronavirus were confirmed in Rome but before the country had suffered any Covid-19 deaths.
Originally planned to last six months, the measure has been extended several times since then. It is currently due to expire on July 31st – and Italian politicians are divided over whether it should continue further.
What is Italy's state of emergency?
 
The most important thing to know is that the stato di emergenza itself does not determine Italy's emergency rules and restrictions: it's not the same thing as an emergency decree, or DPCM (Decreto del Presidente del Consiglio dei Ministri, legislation issued directly by the prime minister).
 
And while it sounds dramatic, the declaration of a state of emergency – previously reserved for natural disasters such as floods or earthquakes – has a specific purpose.
READ ALSO: Fast trains and extended building bonus: How Italy's EU recovery plan could affect you
It gives greater powers to both the national government and to regional authorities, and it was declared in order to allow the prime minister to introduce, change, and revoke rules quickly in response to the ever-changing epidemiological situation.
The state of emergency effectively cuts through bureaucracy, as the introduction of sweeping measures such as making face masks mandatory nationwide would otherwise require a lengthy parliamentary process.
It allows regional authorities to bring in their own local rules aimed at containing the spread of the virus, including declaring certain areas restricted "red zones" in case of outbreaks.
It also authorises the government to allocate emergency funds, and gives the Civil Protection Department special powers to take action designed to protect public health.
Under the current state of emergency, Italy's previous and present governments have issued a series of decrees that served to revise rules depending on the current infection rate in Italy and in other countries.
Early into the pandemic the last government also used it to create a Covid-19 emergency commission and scientific advisory panel (the Comitato tecnico scientifico or CTS), both of which continue to decide important elements of Italy's health policy to this day.
Will it be extended?
With Italy's coronavirus infection rate at its lowest in months and around half the population at least partially vaccinated, some politicians are arguing that it's time for Italy to drop its state of emergency.
Hard-right parties the League and Brothers of Italy, which have been critical of emergency measures including compulsory face masks, have called for the provision to expire at the end of July, in the interests of returning to normality. 
But others in the centre have urged the government not to let down its guard prematurely, especially with the spread of highly contagious variants. 
READ ALSO: Delta variant in Italy: What's the risk of another Covid-19 surge?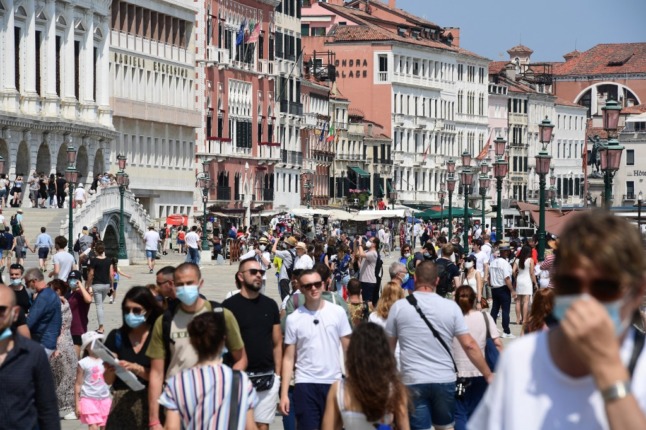 "The government will deliberate extending the state of emergency with the help of experts and the CTS: the extension mustn't be abused because these are special powers used only when strictly necessary, but the Delta variant should not be underestimated. That's a mistake the government will not make," Regional Affairs Minister Mariastella Gelmini, a member of centre-right Forza Italia, told public broadcaster Rai.
Current prime minister Mario Draghi has used fewer emergency powers than his predecessor, Giuseppe Conte, choosing to introduce longer-term reforms via decreto legge (legislative decree), which requires approval from parliament, rather than via emergency DPCMs signed by the premier alone. 
READ ALSO: How you could benefit from Italy's Covid-19 financial support decree
But he and his health minister Roberto Speranza, who has served throughout the pandemic, have generally favoured a cautious approach, guided by the advice of scientific experts.
With the Delta variant in Italy, the vaccine roll-out still underway and international travel set to resume, the government is expected to extend the state of emergency beyond July, not least to keep the CTS advisory panel in place and allow the Covid-19 emergency commission to continue overseeing vaccinations.
How much longer could Italy's state of emergency remain in place?
So far the state of emergency has been extended by between two and six months each time. 
"The discussion is still ongoing, but it makes sense to extend the state of emergency into autumn," undersecretary for health Pierpaolo Sileri told the Tgcom24 news channel this week, by which point Italy aims to reach herd immunity through vaccination.
READ ALSO:
Italian law states that a national state of emergency cannot be declared for more than 12 months in one go, and can only be extended for a maximum of 12 months beyond that, making two years in total.
Extending the measure by another six months – to January 31st 2022 – would take Italy up to this final two-year limit.
The Italian press has speculated that Draghi may end the state of emergency sooner as a compromise, possibly choosing the symbolic date of December 31st 2021 to wrap up one of the longest-lasting features of the Covid-19 pandemic.