Staff shortages, strikes and other issues have made air travel problematic across Europe this summer, but Italian airports have seemingly escaped the worst of the disruption.
Strikes and staff shortages continue to cause major headaches for travellers everywhere from Spain to Germany, with 15,700 flights already cancelled across the continent at the start of this month.
READ ALSO: What's it like travelling through Italy's airports now?
By contrast, there are very few reports of cancellations, serious delays, unusually long lines or large amounts of lost luggage in Italy.
Following some limited strike action in July, Italian flights have been operating pretty much as normal throughout August.
Most cancellations or delays experienced by passengers travelling via Italian airports this summer appear to be a knock-on effect of problems at airports elsewhere in Europe, according to Italy's national civil aviation agency, Enac.
But how has Italy managed this?
The country is no stranger to travel disruption caused by strikes – in fact, this is a regular feature of early summer.
But there are certain times of year, and times of day, during which strikes are not allowed in particular sectors.
For the air travel sector, strikes are banned altogether between July 27th and September 5th, according to Enac.
This is called the franchigia estiva, or 'summer exemption', and it exists partly to protect Italy's highly lucrative travel and tourism industry.
READ ALSO: Airport chaos in Europe: What are your rights if flights are delayed or cancelled?
Other dates on which air travel sector strikes are banned (known as periodi di franchigia, or 'exemption periods') include December 18th to January 7th, and the three days before and three days after a national, regional or European election.
As you can see from Italy's official calendar of approved strikes, there's not much planned in high season – though in some cases, localised strike action can be permitted.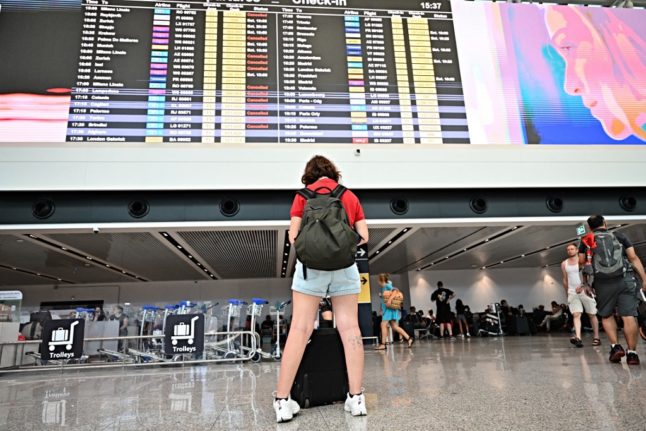 Passengers at Rome's Fiumicino airport during the country's most recent airline strike on July 17th, 2022. Photo by Andreas SOLARO / AFP
Of course, this rule hasn't been the only thing stopping Italy's travel sector from descending into chaos this summer.
As financial newspaper Il Sole 24 Ore points out, there are "structural reasons … and the measures that the government has taken to limit the consequences of the pandemic"
READ ALSO: Italy's summer tourism boom driven by American arrivals
Airport staff shortages are not a major problem in Italy, where "there are generally more worker protections and restrictions on dismissal than in other countries such as the United Kingdom," Il Sole explains.
Italy was also the only EU country to ban layoffs amid the pandemic, with the government in 2020 forcing airline companies to keep their staff on even when flights were grounded.
While this is good news for passengers flying to and from Italy's airports this summer, the ongoing situation across Europe means some disruption to travel plans remains likely.
If your flight is cancelled or significantly delayed, you may be entitled to receive compensation from your airline. Find more information here.