Giorgia Meloni's new Italian government comprises members of the far-right Brothers of Italy party and its coalition allies, Matteo Salvini's anti-immigration League and Silvio Berlusconi's right-wing Forza Italia.
Here are the key players in the most far-right government to take power in Rome since the fall of dictator Benito Mussolini.
Salvini as deputy PM
Salvini returns to the position of deputy prime minister that he held after elections in 2018, when the League formed a government with the populist Five Star Movement. The 49-year-old has also been named minister of infrastructure, which gives him control of Italy's main ports.
But Salvini failed to persuade Meloni to give him back the interior ministry brief. As interior minister in 2019, he blocked several charity rescue ships carrying migrants from disembarking in Italy, under the League's "closed ports" policy. The move saw him prosecuted in Sicily on charges of kidnapping and abuse of office, in a trial still ongoing.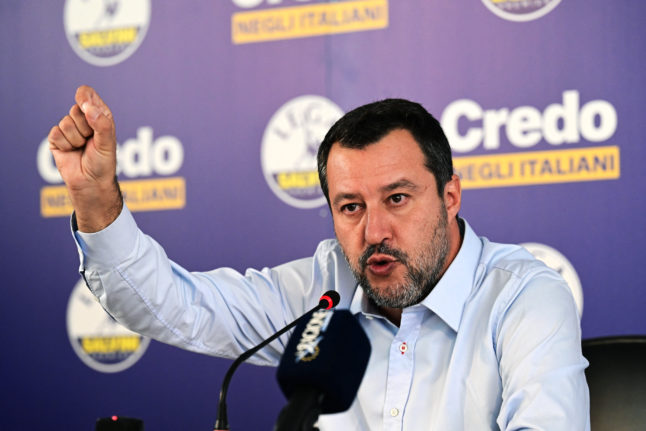 Deputy PM Matteo Salvini had hoped to be restored to the role of interior minister, but will have to content himself with the position of infrastructure minister. Photo by Miguel MEDINA / AFP.
Although he didn't get the votes this time around, Salvini has long coveted the position of prime minister – the full name of his party is 'League for Salvini premier' – and his recent social media posts promising a return to 'security' indicate he expected to at least win the consolation prize of interior minister.
Salvini also has a long history of close ties to Russia, while Meloni, determined to prove her Atlanticist credentials in a bid be taken seriously on the international stage, is adamantly pro-Ukraine. These points of contention could cause clashes between the coalition partners further down the line.
READ ALSO: Political cheat sheet: Understanding the Brothers of Italy
Pro-European foreign minister
Antonio Tajani, a committed pro-European who served as head of the European Parliament between 2017 and 2019, is perhaps a surprise choice to represent Meloni's Eurosceptic government on the world stage.
But the 69-year-old is close to former premier Berlusconi – he co-founded their right-wing Forza Italia party back in the 1990s – and brings much needed experience to Meloni's team.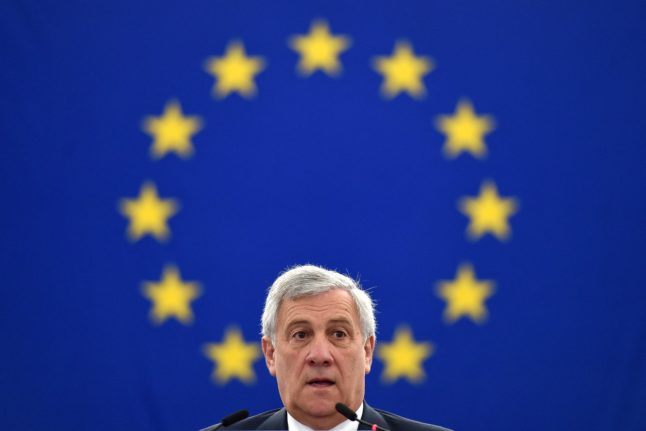 Italy's new foreign minister Antonio Tajani is the former head of the European Parliament. Photo by FREDERICK FLORIN / AFP.
Tajani's ties forged during many years as a member of the European Parliament and then as European commissioner will be particularly useful in ties with Brussels.
An affable former journalist and skilled political operator who speaks French, English and Spanish, Tajani deputised for 86-year-old Berlusconi, who suffers from various ailments, during the election campaign. Like Salvini, Tajani is also named a deputy prime minister.
League economy minister
Giancarlo Giorgetti, a powerful figure in the League, takes on the responsibility of steering Italy's debt-laden economy through an inflation and energy crisis.
The 55-year-old is considered one of the more moderate, pro-European members of Salvini's party and the two men do not always see eye to eye. Giorgietti was a loyal supporter of former premier Mario Draghi, under whom he served as minister for economic development.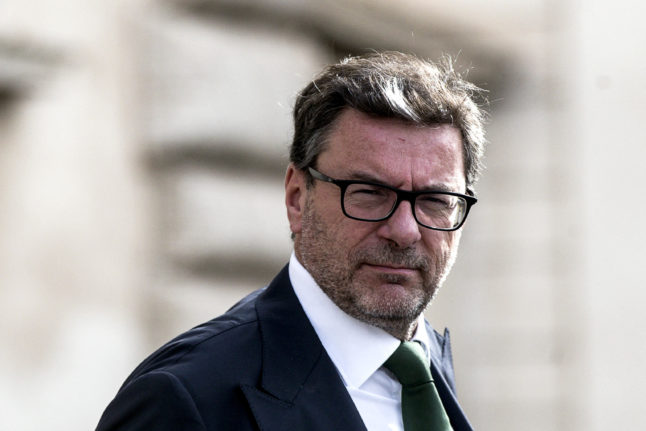 Italy's newly-appointed Minister of Economics and Finance Giancarlo Giorgetti is a pro-Europe member of Salvini's League party. Photo by ANGELO CARCONI / ANSA / AFP).
Previously Giorgetti – a fan of English football club Southampton – served in Giuseppe Conte's 2018-2019 government, notably as sports minister.
READ MORE: Who is Italy's new economy minister?
He was not Meloni's first choice as economy minister but Fabio Panetta, a senior executive in the Bank of Italy, and Daniele Franco, Draghi's finance minister, reportedly turned her down.
Technocratic interior minister
In a nationalistic government where security and immigration are major priorities, the interior ministry has gone to a technocrat.
Matteo Piantedosi, 59, has spent his entire career in government administration, much of it within the interior ministry, where he served as chief of staff under Salvini. Since August 2020 he has been prefect of Rome, in charge of issues such as security and immigration.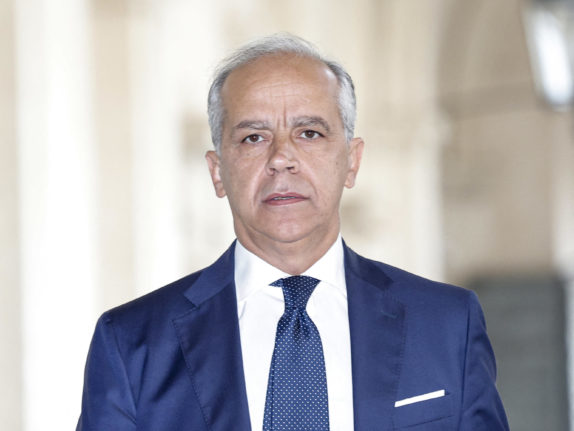 Italy's newly appointed Interior Minister Matteo Piantedosi is a technocrat known as Salvini's 'right-hand man'. Photo by GIUSEPPE LAMI / ANSA / AFP.
Piantedosi has been described in the Italian press as Salvini's 'right-hand man'. He co-drafted Salvini's infamous anti-migrant 'security decrees', which were overhauled in 2020, and was investigated by police on the same charges of kidnapping and abuse of office for which Salvini is currently on trial.
The new minister said on Sunday "migration flows must be governed" in response to news of a boat overturning off the coast of Lampedusa; he reportedly plans to intensify Italy's relations with Libya and Tunisia and increase collaboration with neighbouring European states to limit immigration.
Traditional technocrat health minister
Despite having spent much of her time in opposition railing against the previous government's Covid restrictions, Meloni's pick for health minister is a medical doctor who formed part of the team advising the Draghi administration on its handling of the pandemic.
Italy's new PM Giorgia Meloni spent the last 2.5 years attacking the "Green Pass" vaccine mandate. Now she's named as health minister a doctor who backed the Green Pass and was on the committee of experts advising the former health minister who was Meloni's favorite target 1/2

— gavin jones (@gavinjones10) October 24, 2022
This reversal might seem surprising, but commentators say it's in line with Meloni's overarching interest in coming across as a credible European leader now she's won the protest vote.
New health minister Orazio Schillaci is a professor of nuclear medicine and the rector of Rome's Tor Vergata University, where he previously served as the dean of the Faculty of Medicine and Surgery.
He described the former government's 'green pass' vaccine control as an "indispensable tool for guaranteeing safety in university classrooms" and commended Tor Vergata students for their high vaccination rate, saying they had "shown great civic sense."
Minister of Families, Birthrate and Equal Opportunities
Under Meloni's government the former Ministry for Equal Opportunities and Families becomes the Ministry for Families, Birthrate and Equal Opportunities, highlighting the prime minister's preoccupation with Italy's plummeting birth rate.
The department will be run by Brothers of Italy MP Eugenia Roccella, who was undersecretary for health under a previous Berlusconi government.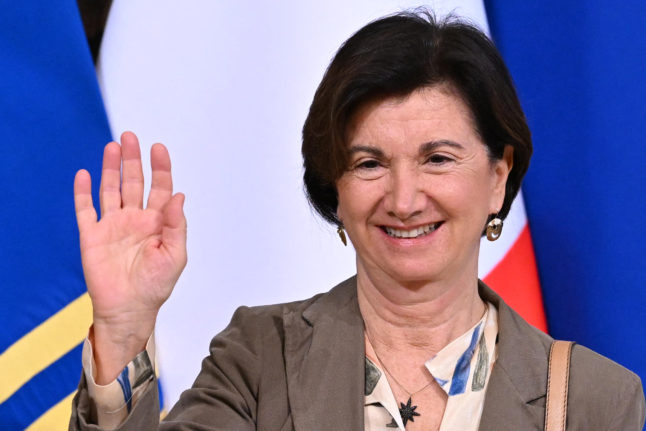 Italy's new Minister for the Family, Birthrate and Equal Opportunities Eugenia Roccella poses prior to the new government's first Cabinet meeting on October 23, 2022 at Palazzo Chigi in Rome. Photo by Andreas SOLARO / AFP.
Having started out as a leader of Italy's Women's Liberation Movement in the 70's – during which time she authored the book 'Abortion: Let's get it done ourselves' – Roccella radically revised her positions when she returned to politics in the early 2000s after a 20-year hiatus.
She has said that abortion is "not a right" – though insists the new government will not attempt to overturn Italy's abortion law – and is opposed to adoption by same-sex couples as well as surrogacy and IVF.
Minister for Agriculture and Food Sovereignty
The former Ministry of Agricultural Policies has now become the Ministry of Agriculture and Food Sovereignty. It will be headed by Meloni's brother-in-law, Francesco Lollobrigida, who helped co-found her Brothers of Italy party. 
READ ALSO: Political cheat sheet: Understanding the Brothers of Italy
Like Meloni, Lollobrigida started his political career as a member of the Fronte della Gioventù, the youth arm of the neofascist Italian Social Movement (MSI) which is the antecedent of the Brothers of Italy.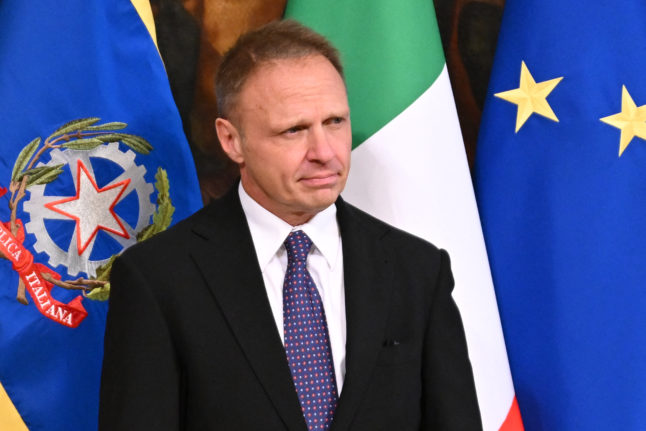 Italy's Agriculture and Food Sovereignty Minister Francesco Lollobrigida is Meloni's brother-in-law and a co-founder of her Brothers of Italy party. Photo by Andreas SOLARO / AFP.
In 2012, Lollobrigida was embroiled in a controversy after he inaugurated a shrine to Rodolfo Graziani, the defence minister of the Republic of Salò – a German puppet state and the final incarnation of Mussolini's fascist dictatorship. Then-regional councillor Lollobrigida said it was a "beautiful moment" and that the locals had always had "affection for General Rodolfo Graziani".
Meloni's brother in law Francesco Lollobrigida is to be agriculture minister. In 2012 he helped unveil a mausoleum for Rodolfo Graziani,war criminal and Salò defence minister . A 2020 court ruling said this is fine as "commemoration" is not "exaltation" https://t.co/GSzSF9rWtV

— David Broder (@broderly) October 21, 2022
Speaking of his new role, Lollobrigida has insisted that food sovereignty is "not a fascist concept", arguing that France already has a ministry with the same name.
He told journalists that food sovereignty "means protecting the economy and putting the relationship with farmers back at the center of production, to protect not just part of the agri-food chain, but also rural culture".
Anti-immigrant Education and 'Merit' Minister
Italy's education ministry is now the Ministry for Education and Merit. It will be helmed by League deputy Giuseppe Valditara, who in 2016 authored a pamphlet published by the right-wing newspaper Il Giornale blaming the fall of the Roman empire on immigrants (historians say it was in fact built on immigrants).
Valditara has responded to the controversy unleashed by the pamphlet's discovery by accusing Il Giornale of picking a misleading title ('The Roman empire destroyed by immigrants') and the press of judging without having read the text, which he says "recognises the historical value of migration flows, which must nevertheless be managed and not endured."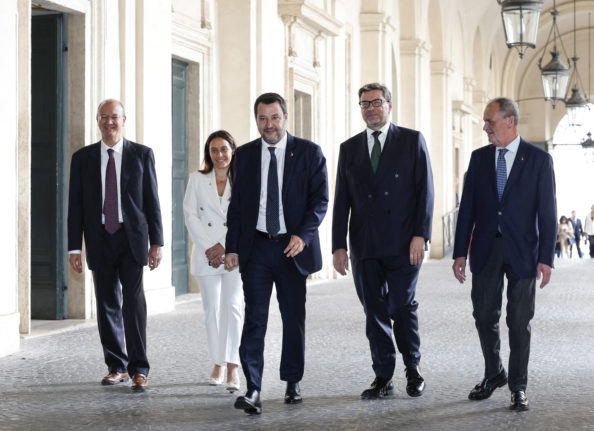 Italy's newly-named Minister of Education and Merit Giuseppe Valditara (L) with other members of the newly-formed cabinet on October 22, 2022 in Rome. Photo by GIUSEPPE LAMI / ANSA / AFP.
Critics of the ministry's new name say it promotes the idea that academic achievement is based solely on effort, and ignores structural injustices that prevent low-income students from progressing in school.
'Made in Italy' minister and other new titles
Italy's education, agriculture and equal opportunities ministries aren't the only government departments to have undergone major rebranding under Meloni.
The Minister for Economic Development will become the Minister of Enterprise and 'Made in Italy' (the latter part of the name is ironically rendered in English), underscoring Meloni's interest in protecting Italian industry.
The position goes to Brothers of Italy senator Adolfo Urso, who started his political career in the MSI and co-founded its successor the National Alliance. Urso previously served as a deputy foreign trade minister under Berlusconi and from 2018-2021 was the president of Copasir, the body responsible for overseeing Italy's intelligence agencies.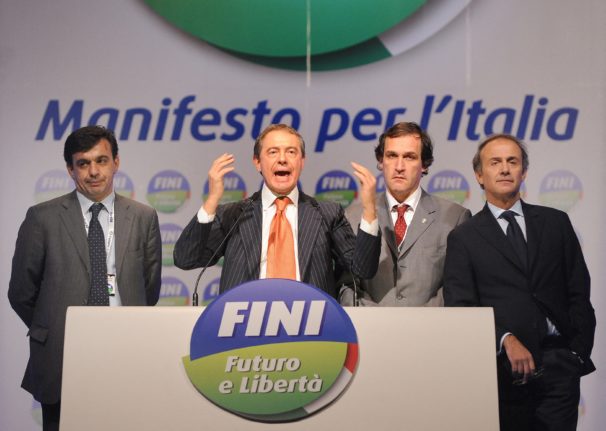 Adolfo Urso (second from L) is Italy's new Minister of Enterprise and Made in Italy. Photo by TIZIANA FABI / AFP.
The Minister of the South is now the Minister of the South and the Sea, suggesting that the new government is mainly concerned with southern Italy insofar as it can tighten its external border controls. The post will be held by Brothers of Italy senator Sebastiano 'Nello' Musumeci, who recently completed a three-year term as Sicily's regional president.
The Minister for Ecological Transition is replaced with the Minister for Environment and Energy Security. This role will be held by Gilberto Pichetto Fratin (initially Paolo Zangrillo had been named to the post, but a last-minute reshuffle saw him transferred to the ministry of public administration).
Hailing from Piedmont in the north, Pichetto Fratin is a long-time Forza Italia member who served as a deputy economic development minister under the previous Draghi government. He's said his first priority is to fast-track the launch of an LNG plant at Piombino to compensate for the anticipated shortfall of Russian gas this winter.
Ultra-Conservative Catholic speaker
There was outrage from rights groups after Italy's lower house of parliament earlier this month elected as speaker League member Lorenzo Fontana, a close Salvini ally known for his ultra-conservative views on issues such as abortion and same-sex marriage.
The 42-year-old devout Catholic, whose Facebook page is peppered with depictions of saints, has also railed against immigrants' "invasion" of Italy and in 2016 voiced support for Greece's Golden Dawn neo-Nazi party.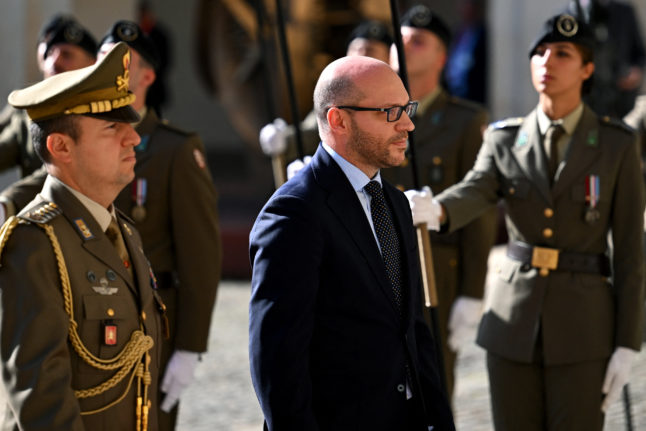 Italy's new speaker of the lower house, right-wing League party member Lorenzo Fontana, is
an ultra-conservative who has praised Greece's neo-Nazi Golden Dawn party. Photo by Andreas SOLARO / AFP.
In 2014 he denounced EU sanctions against Moscow over the annexation of Crimea, and has called President Vladimir Putin's Russia a "model" society, according to reports.
In an interview this week Fontana condemned Russia's invasion of Ukraine, but warned – echoing Salvini – that sanctions on Moscow risk a "boomerang" effect, hurting Europe more.
Collector of fascist memorabilia
The Senate, the upper house of parliament, voted as their speaker Ignazio La Russa, a co-founder of Meloni's Brothers of Italy party.
The 75-year-old Sicilian has been a veteran of Italy's far-right his whole life, following in the footsteps of his father, who gave him the middle name Benito after dictator Benito Mussolini.
La Russa was defence minister under Berlusconi's last government and is known for his collection of fascist memorabilia.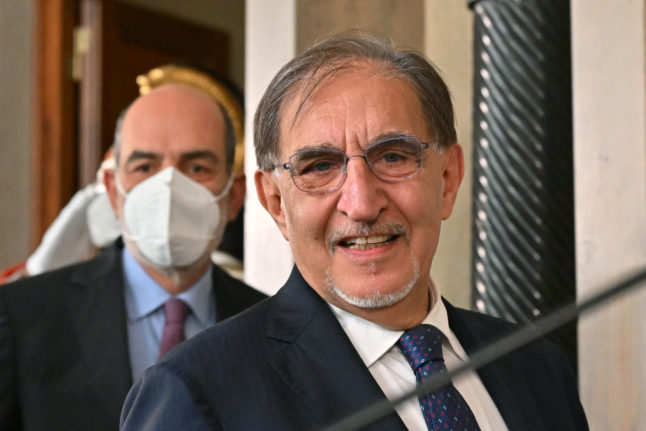 The new President of the Italian Senate, member of Italian far-right Brothers of Italy party Ignazio La Russa, is a collector of fascist memorabilia. Photo by Alberto PIZZOLI / AFP.
READ MORE: Five reasons why Italy is more stable than the UK right now